Reading Time:
4
minutes
Having a smart and easily accessible website can be a game-changer in today's digital marketing era. No matter what is your industry or business domain or your operational scale, a strong website can build and boost your online identity.
Furthermore, building a website is not difficult in the last decades now. You can simply get a developer, pay for a website building tool, get access to a domain, and get your website ready within days or even hours. However, when you choose a regular website builder to save a few bucks, you miss tons of opportunities, design, and expertise. That is why you need to hire a professional web development company to bring expert design, proficiency, and expertise to the website development process.
In this article, we will discuss some of the biggest benefits of choosing a professional website development company. We will also learn how they can help you expand your online presence and reach more clients than ever.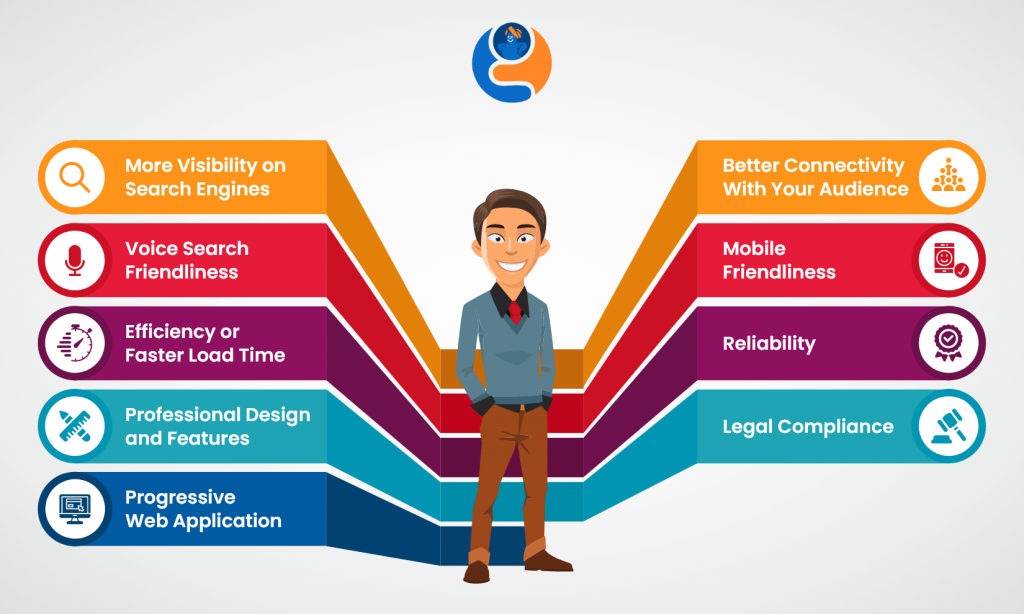 More Visibility on Search Engines SEO (Search Engine Optimisation) is the most significant factor that can accelerate your company's online marketing efforts. A website without SEO cannot appear on the first page results of search engines like Google and is almost a waste of funds and efforts. A website developed by skilled web developers possesses the right elements that adhere to the best SEO practices and make you appear amongst the top search result. As a result, you can enjoy effective sales and marketing of your business. Likewise, with an SEO-optimised website, you can experience a better local market share with enhanced visibility and stronger reach in the masses.
Voice Search Friendliness In the past few years, the expansion of voice commerce or voice search has become an influential factor for the online presence of companies. You'll be surprised to know that while making a website nowadays, it is essential to make it voice search-enabled. This is also extremely important for your SEO, your results in the first pages of the search engines, and the experience of your users. However, making a website voice search-friendly isn't everyone's cup of tea. It demands thorough keyword research, structured data optimisation, content development, and other exhausting efforts. An angular JS development company is the only solution that can help you make your website capable of voice search and provide an outstanding user experience.
Efficiency or Faster Load Time Faster load time is one significant factor distinguishing a good website from a poor one. It makes your users access your information in the least possible time and stops them from jumping to other search results. To achieve a faster load time, you will need access to smart plugins and tools that only a professional web development agency can provide. These innovative companies and their skilled technicians build a quick loading website for you and ensure that the site never gets bogged down with any annoying load screens. Furthermore, web design and development agencies possess the latest technology, tools, features, and plugins that make your website richer in terms of looks, navigation, security, and performance. Not to forget, a faster loading site ranks higher in search engines and is excellent for your SEO efforts.
Professional Design and Features You can build a website of your own. Several companies allow domains and features that enable anyone to build a website. But would that website made by you be as efficient and smart as a powerful website developed by an experienced web development company? No. Plus, you don't want to compete with your competitors with a poorly built website, right? This is why professional website creators ensure the highest accuracy and coordination in your website.
Web development firms have whole teams of designers, developers, and marketers who operate as a single unit to ensure you get the most competent website.
Progressive Web Application A professional web development company can also help you develop progressive web applications (PWA) for your business. These PWAs can deliver an app-like experience to your users and offer a faster and safer website environment. Likewise, PWA also improves the SEO score of your website.
Better Connectivity With Your Audience A website acts as your first medium of contact with your target audience. When a user searches for a particular product or query and lands on your website, the first impression introduces them to your world of services. By developing a perfect website with rich interact-able content, you can lead your business in the right way and generate ROI.
Mobile Friendliness It is no surprise that most users in present times access the web with their smartphones/tablets. Therefore, it is of uttermost importance that your website is mobile friendly and offers all the exciting features compatible with all devices and screen sizes. Gladly, web development companies are intelligent enough to provide an exceptional experience to your desktop as well as mobile users by developing fully compatible and organised mobile-friendly websites.
Reliability Owning a website is not just suitable for your company's portfolio but also makes you a reliable alternative in the minds of your target audience. A website speaks for the trust and trustworthiness of an organisation, and with the help of a professional web development company, you can achieve it within a few days. A PHP development company will ensure that your site has higher uptime and efficiently avoids emergencies.
Legal Compliance Legal compliances such as ADA compliance in the US are legal prerequisites that a website must possess to go live. These compliances allow even people with disabilities to use the website with ease. Approaching a web development company means you are guaranteeing that your website is compliant with all rules and regulations of your area. In addition, their team of experienced professionals ensures that all users can easily navigate the website. When you choose the best web development company, it will stay with you through the process. They support you in all the procedures, such as planning, design, development, testing, release, and site maintenance.
Final Words
In current times, every business requires a comprehensive website to promote its online presence. If your website is professionally designed, you can successfully enhance your market visibility, boost your marketing strategies and get more potential clients in your target market. Also, a powerful website comes with tons of features that can go beyond your marketing efforts and land you a competitive edge in the market.
Therefore, if you haven't considered approaching a web development agency for your website, it is time to do so.