Reading Time:
2
minutes
App development makes up a large part of our service line since we began as a team more than ten years ago. We quickly recognized its potential value to any market and invested everything we could in becoming one of the top providers of that service.
Our team has made a lot of progress and helped uplift many of our clients with our skills, which were duly recognized. The next step in our expansion strategy is reaching out to a wider audience and making them realize the kind of quality available with WebCodeGenie.
We went with the usual digital marketing strategies and added one more for good measure. This is reviews and feedback. We recently created a profile on a platform that specializes in B2B interactions and successfully earned a five star rating on our latest project.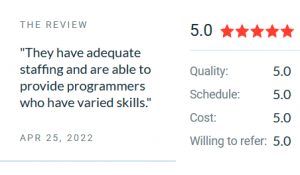 This strategy is admittedly, more of a gamble than the usual methods. Mainly because the final score is largely out of our control and is immediately made public. All we can do is put in our best effort, ensure the client felt they were taken care of, encourage them to write a review, and then hope that everything falls in our favor.
So far, the gamble is paying off and we are seeing nothing but positivity regarding our work. The goal of having reviews published like this is that it connects clients to their ideal vendors. This shortens the usual process considerably. Potential clients get to see the pros and cons of a vendor from the perspective of a fellow consumer.
These insights can touch on things that marketing doesn't always bring up like communication and company culture. Reviews are also more likely to be believed as they come from uninterested third parties that have nothing to gain by just spouting praise.
We are quite grateful to all our past clients who took the time in writing and publishing reviews on our behalf. It's our hope that more of our current and future partners will do the same and facilitate our continued growth as a company in the near future.
Discover our expertise in app development as well as other digital industries by going to our website. You can also contact our team directly to get quick answers to any questions or inquiries you might have regarding how our work can benefit your business. We look forward to hearing from you soon.