Reading Time:
3
minutes
Do you know why businesses fail to generate higher ROI through their web applications?
These are the main reasons:
Not have a clear audience segment
Not having a clear strategy
Too many features
Complex functionality
This problem can be avoided by the proper web design and development lifecycle.
WebCodeGenie is India's leading website design and development company with an expert team of web developers who create the entire web development process and implement it to achieve robust web applications.
So let us help you to understand the complete web development lifecycle and how can it helps you: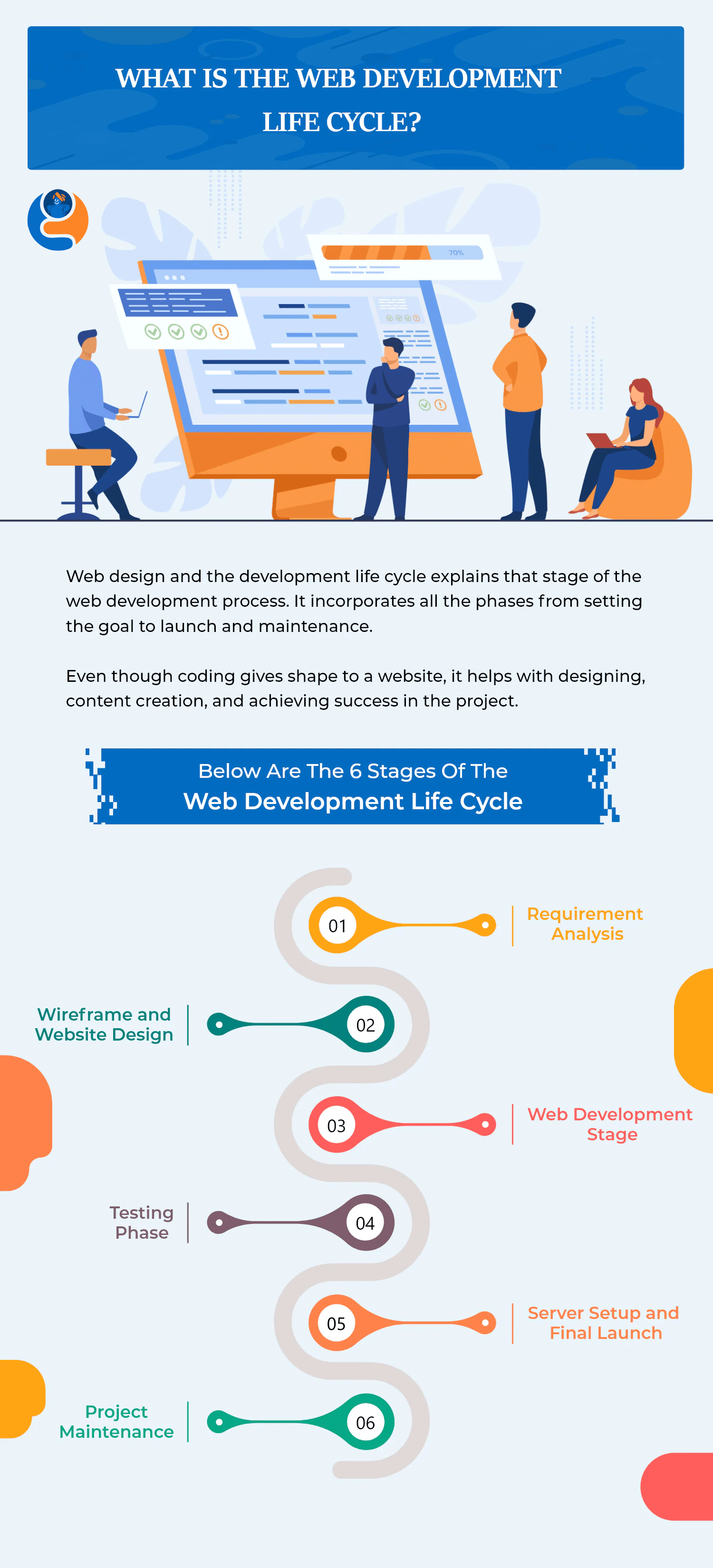 6 Phases of Web Development: Details Guide 2022
We've explained the web development lifecycle below which will help you to streamline the web design process for your business.
1. Requirement Analysis
Requirement analysis is the first phase of the web development lifecycle and defines the client's requirements, purpose, main goals, and target audience. This stage covers below details:
Defining the Technologies
Finalizing the Timeline
Gathering Resources
Collaboration Tools
Initiate Your Meeting
NDA Signing
So at this stage, the development team understands the requirements and the audiences of the website.
2. Wireframe and Website Design
In this stage, you can create one graphic design checklist template. You start with designing a wireframe to understand the exact flow of your website and solve any loopholes it comes with.
Experts at our website development company follow the below process to help you to streamline your web design process.
Designing a Wireframe
Website Likes and Dislikes
Defining a Navigation Flow
Every client has different requirements and viewpoints about how they want their website. We understand your idea, research your market, create and wireframe and define a clear navigation flow for a better customer experience.
3. Web Development Stage
After understanding the website framework and navigation, we will be moving toward the web development stage. In this stage, the entire web development methodology needs to complete the robust web applications.
Here, vetted developers at our web development agency will be focusing on two phases to perform successful web development. You can also hire Laravel developers, who specialize in both front end and back end development.
Frontend Web Development
Back-end Web Development
4. Testing Phase
In this stage, our quality assurance team checks the compatibility, usability, functionality, and performance to ensure error-free web development.
We're one of the best web development companies in India and perform an agile testing strategy based on the project modules.
Once our quality team completely tests all the modules, we will test the entire project again before making the website live.
Once the QA team of our web development agency completely tests all the modules, the final testing phase will start. In this stage, the entire project will be tested before making the website live to check for any bugs and errors.
5. Server Setup and Final Launch
As the testing stage completes, the launching phase begins. Once the developer approves the project, it's time to launch the website using an FTP protocol via the Jenkins test server or live server.
After that, our expert development team will check the flow, design, and navigation of the entire website to make sure nothing is out of place.
6. Project Maintenance
Once your website is live, it should be continually monitored to check the website performance, update content, monitor analytics, and refine your brand voice.
As a leading and trusted website design and development company in India, we offer 90 days of free maintenance service after the final launch. Keeping a well-maintained website boost your business growth, engage and retain customers and provide a memorable user experience
Conclusion
Every stage of the web design and development cycle is crucial. Each step needs in-depth research, human and material resources, and analysis for better results.
WebCodeGenie is a leading web development company based in India and helps create tech-enabled solutions that could not only grow your business but change the world.