Reading Time:
11
minutes
Are you tired of the never-ending paperwork, endless phone calls, and countless hours spent managing your real estate properties? Imagine a world where your property management tasks are streamlined, automated, and hassle-free.
Real Estate Property Management Software is here to make that dream a reality. With its cutting-edge features and intuitive interface, this software is designed to revolutionize the way you manage your properties.
Say goodbye to manual processes and hello to increased efficiency, improved organization, and enhanced tenant satisfaction. Whether you're a property owner, a landlord, or a property manager, this software is your ultimate solution for seamless property management. Get ready to experience the power of automation and take your real estate business to new heights.
What is Real Estate Property Management Software?
Real Estate Property Management Software is a powerful tool designed to simplify and streamline the management of real estate properties. It is a comprehensive solution that enables property owners, landlords, and property managers to efficiently handle various tasks related to property management, such as tenant management, lease tracking, maintenance requests, financial management, and more.
With this software, you can centralize all property-related information, automate routine processes, and gain better control over your portfolio. It provides features like rent collection, vacancy tracking, document management, and reporting, allowing you to stay organized, save time, and make informed decisions.
Real Estate Property Management Software is a game-changer for the real estate industry, enabling professionals to maximize efficiency, minimize errors, and deliver exceptional property management services.
How Does Property Management Software Empower Success?
Efficient Rent & Lease Management
Streamline your rent and lease processes effortlessly with automated tools that handle rent collection, payment tracking, invoice generation, and lease agreement management. Bid farewell to paperwork, minimize errors, and ensure prompt rent collection.
Tenant Communication & Support
Foster seamless communication with your tenants through dedicated tools that allow you to send important notifications, address maintenance requests, and promptly respond to inquiries. Enhance tenant satisfaction and build strong landlord-tenant relationships.
Maintenance & Work Order Management
Simplify maintenance tasks and work orders with a comprehensive management system. Schedule and track maintenance requests, assign tasks to your maintenance staff and monitor progress in real-time. Boost efficiency, reduce response times, and ensure timely repairs.
Financial Management & Reporting
Streamline your financial tasks by automating expense tracking, budgeting, and generating accurate financial reports. Gain real-time insights into property performance, monitor cash flow, and make informed financial decisions.
Document & Data Management
Efficiently handle and organize a large volume of documents, contracts, and tenant information with a centralized document storage system. Access, retrieve, and secure important files effortlessly, eliminating manual filing systems and reducing the risk of misplaced documents.
Streamlined Applicant Screening & Onboarding
Simplify your tenant selection process with features that allow you to collect and review applications, conduct background checks, and streamline the tenant screening process. Select reliable tenants and minimize vacancy rates.
Performance Analytics & Reporting
Gain valuable insights into property occupancy rates, rental income, maintenance costs, and other key metrics through advanced analytics and reporting capabilities. Make data-driven decisions, identify areas for improvement, and optimize property performance.
Scalability & Portfolio Management
Seamlessly manage multiple properties and portfolios with scalable solutions. Maintain organization and efficiency while expanding your property portfolio. Simplify portfolio management, streamline communication, and access cross-property reporting for enhanced productivity.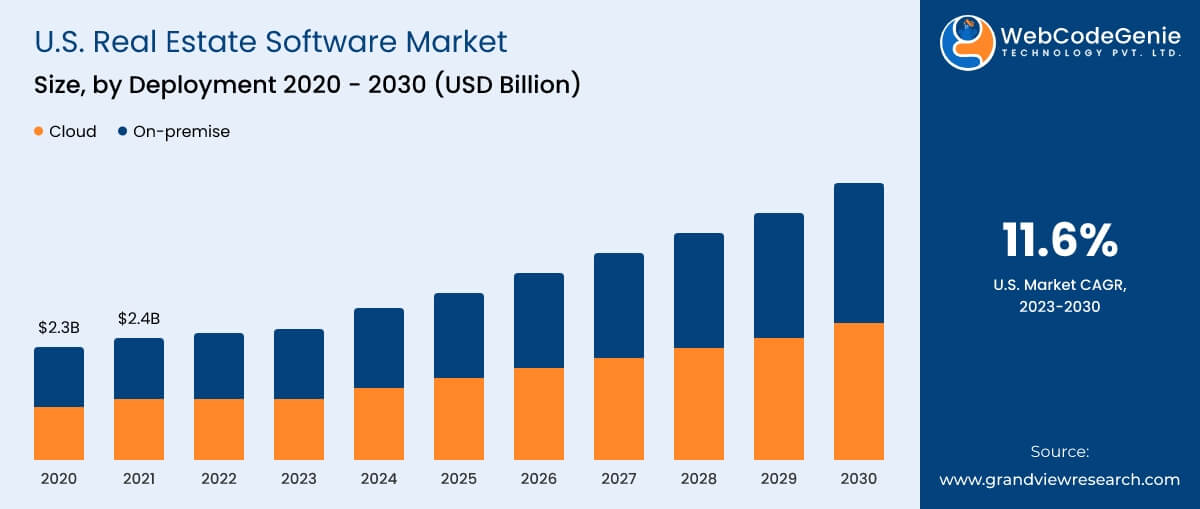 Diving into the Types of Real Estate Property Management Software
Real estate property management software has revolutionized the way property owners and managers handle their operations. With an array of software solutions available in the market, it's essential to understand the different types and their features to make an informed choice. In addition to traditional property management functionalities, many software options also encompass website and mobile app development capabilities, providing a comprehensive solution for streamlined operations.
All-in-One Property Management Software: This type of software offers a comprehensive suite of features, including rent and lease management, tenant communication, maintenance, and work order management, financial management, document and data management, and applicant screening. It provides a centralized platform for managing all aspects of property management, making it a convenient choice for property owners and managers.
Website Development Software: Some property management software includes built-in website development tools, allowing users to create and customize their property websites. These tools provide templates, drag-and-drop functionality, and integration options for property listings, making it easier to showcase properties and attract potential tenants or buyers.
Mobile App Development Software: Mobile apps have become an essential part of property management, enabling property owners and tenants to access information and perform various tasks on the go. Property management software with mobile app development capabilities allows users to create branded mobile apps for their properties, offering features such as rent payment, maintenance request submission, communication, and notifications.
Marketing & Lead Generation Software: This type of software focuses on marketing tasks and lead generation for properties. It includes features such as property listing syndication, lead tracking, lead nurturing, and analytics. By leveraging digital marketing channels, property managers can reach a wider audience and attract potential tenants or buyers.
Investment & Portfolio Management Software: For property investors and real estate professionals managing multiple properties or portfolios, specialized software offers features for tracking investment prospects, analyzing property performance, generating reports, and making informed investment decisions. It provides insights into key metrics such as occupancy rates, rental income, and expenses, helping optimize investment strategies.
Communication & Collaboration Software: Effective communication is crucial in property management. Software solutions with communication and collaboration features streamline tenant communication, facilitate internal team collaboration, and enhance customer service. These tools often include messaging systems, notification capabilities, task management, and document sharing, ensuring seamless communication and efficient workflow.
Customizable & Scalable Solutions: Some property management software offers customization options, allowing users to tailor the software to their specific needs. These solutions often come with flexible features and integrations, making it easier to adapt to unique property management requirements. Scalability is another important consideration, enabling the software to accommodate the growth of property portfolios and handle increased workloads efficiently.
What Makes Real Estate Mobile App Development a Leading Trend in the Industry?
The real estate industry is undergoing a digital revolution, and mobile app development has emerged as a leading trend that is reshaping the way properties are bought, sold, and managed. Here are the key factors driving the prominence of real estate mobile app development:
Enhanced Property Search Experience: Real estate mobile apps offer a user-friendly interface and advanced search functionalities that empower potential buyers and renters to find their dream properties with ease. Users can filter search results based on location, price range, property type, and specific preferences. The convenience of browsing through property listings on mobile devices anytime, anywhere has revolutionized the property search experience.
Rich Property Details and Visuals: Mobile apps allow real estate companies to showcase properties through high-quality images, 3D virtual tours, and videos. Detailed property descriptions, floor plans, amenities, and neighborhood information are readily accessible, providing potential buyers or renters with a comprehensive understanding of the properties they are interested in. Visuals and immersive experiences create an engaging and compelling platform for property exploration.
Instant Notifications and Updates: Real estate mobile apps keep users informed about new property listings, price changes, open houses, and other important updates through push notifications. This real-time communication ensures that potential buyers and renters stay up to date with the latest market information and never miss out on opportunities. Instant notifications enable prompt decision-making and create a sense of urgency in a competitive real estate market.
Seamless Appointment Scheduling: Mobile apps simplify the process of scheduling property viewings and appointments. Users can directly book appointments, request property tours, or communicate with real estate agents through the app. Integrated calendars and automated reminders ensure that appointments are efficiently managed, reducing administrative overhead and enhancing customer satisfaction.
Secure Transactions and Documentation: Real estate mobile apps provide a secure platform for property transactions and documentation. Users can complete pre-approval processes, submit digital documents, and even sign contracts electronically, eliminating the need for cumbersome paperwork. Built-in security measures and encryption protocols ensure the confidentiality and integrity of sensitive information, instilling trust and confidence in users.
Personalized User Experience: Mobile apps leverage user data and preferences to offer personalized recommendations and tailored experiences. Machine learning algorithms analyze user behavior, search history, and saved preferences to suggest relevant properties, neighborhoods, or investment opportunities. Personalization enhances user engagement, builds customer loyalty, and helps real estate companies deliver customized services.
Exploring the Diverse Types of Real Estate Apps
Real estate apps have emerged as powerful tools that transform the way people buy, sell, rent, and manage properties. They offer convenience, efficiency, and enhanced user experiences. Here are some of the key types of real estate apps that are revolutionizing the property market:
Property Listing Apps
These apps serve as comprehensive platforms for property listings. They allow real estate agents, brokers, and individuals to showcase properties for sale or rent. Users can search for properties based on location, price range, property type, and specific criteria. Property listing apps provide detailed property descriptions, high-quality images, virtual tours, and contact information for property inquiries.
Mortgage and Financing Apps
Mortgage and financing apps assist users in navigating the complexities of property financing. They offer tools to calculate mortgage payments, affordability, and loan options. Users can explore mortgage rates, compare lenders, and access pre-approval processes. These apps streamline the financing journey and empower buyers to make informed decisions regarding their property investments.
Rental and Apartment Finding Apps
Rental and apartment-finding apps cater to individuals seeking rental properties. They provide an extensive database of available apartments or rental homes in specific areas. Users can search for rentals based on their desired location, price range, number of bedrooms, and other preferences. These apps often offer features like virtual tours, lease agreements, and direct communication with landlords or property managers.
Property Management Apps
Property management apps are designed for property owners, landlords, and property management companies. They streamline various tasks such as rent collection, maintenance requests, lease management, and communication with tenants. These apps enable efficient property management on-the-go, ensuring smooth operations and enhancing tenant satisfaction.
Real Estate Investment Apps
Real estate investment apps cater to investors interested in property investment opportunities. They provide access to property market trends, investment analysis, and property valuation tools. These apps offer insights into potential rental income, property appreciation, and return on investment. Real estate investment apps empower investors to make informed decisions and manage their portfolios effectively.
Home Design and Renovation Apps
Home design and renovation apps assist homeowners in visualizing and planning their interior design and renovation projects. They offer features like 3D modeling, virtual room layout, and product catalogs for furniture and decor. Users can experiment with different design ideas, colors, and styles before committing to renovations, ultimately helping them create their dream homes.
Real estate app development is revolutionizing the property market, empowering buyers, sellers, and property professionals. From property listings to financing, rentals, property management, investment, and home design, real estate apps offer convenience, efficiency, and enhanced user experiences. Leverage the power of real estate app development to transform the way you buy, sell, rent, invest, and manage properties. Let our experts bring your real estate app ideas to life.
Real Estate Industry Titans: Dominating with Powerful Websites and Apps
In the competitive world of real estate websites and apps, there are several industry titans that have established themselves as leaders. These companies have revolutionized the way people buy, sell, and explore real estate. Let's take a closer look at the titans in the real estate website and apps industry:
Zillow
Zillow has established itself as an iconic name in the real estate industry. It offers a comprehensive platform that provides property listings, market data, and neighborhood information. With its user-friendly interface and extensive database, Zillow has become a go-to destination for buyers, sellers, and real estate professionals.
Realtor.com
As the official website of the National Association of Realtors, Realtor.com is a trusted source for real estate information. It offers accurate and up-to-date property listings, market trends, and professional guidance. Realtor.com connects buyers, sellers, and real estate agents in a seamless and efficient manner.
Redfin
Redfin has gained popularity for its innovative approach to real estate. It combines online tools with the expertise of local agents to provide a unique and personalized experience. Redfin's website and app offer comprehensive property listings, virtual tours, and advanced search features.
Trulia
Trulia is known for its user-friendly interface and extensive property database. It provides detailed information about homes, neighborhoods, schools, and local amenities. Trulia's website and app offer valuable insights to buyers, sellers, and renters, helping them make informed decisions.
Homes.com
Homes.com is a leading real estate platform that offers a wide range of property listings across the United States. It provides robust search options, neighborhood information, and resources for buyers, sellers, and renters. Homes.com is committed to simplifying the real estate process and empowering users with the information they need.
These industry titans have successfully established themselves as leaders in the real estate website and app industries. Their commitment to innovation, user experience, and reliable data has earned them a strong reputation and a loyal user base. Whether you're a buyer, seller, or real estate professional, these titans are a valuable resource in your real estate journey.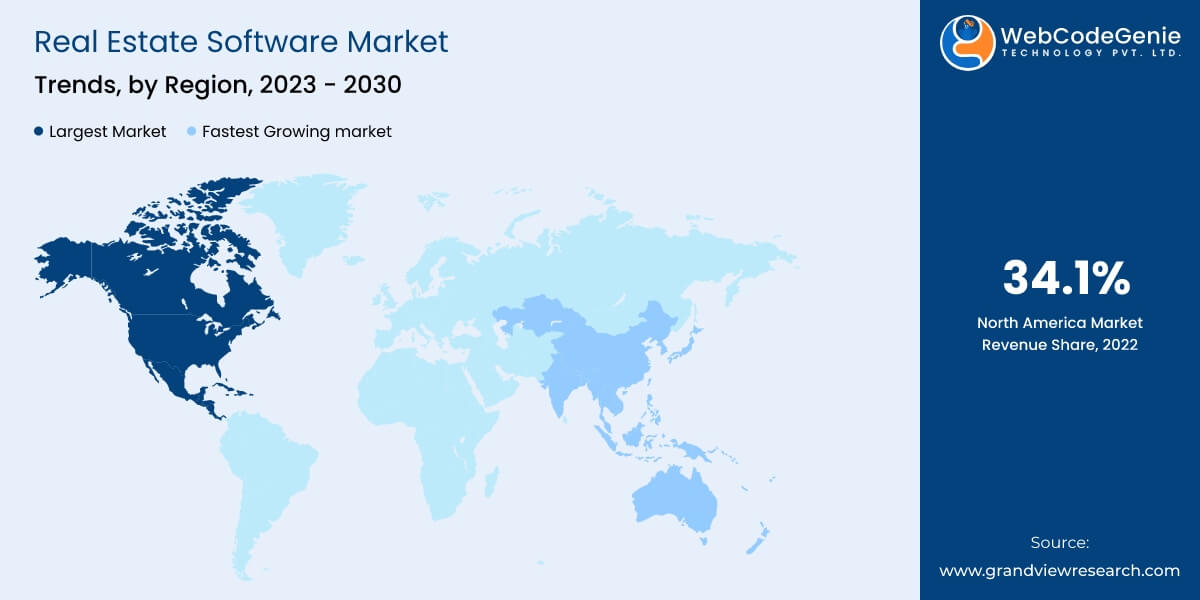 10 Steps to Build a Real Estate Property Management Software
Step 1: Define Your Requirements
Start by defining your specific requirements for the real estate property management software. Consider factors such as the size and type of properties you manage, the features you need (e.g., rent collection, lease management, maintenance tracking), and any unique aspects of your business.)
Step 2: Research & Select a Technology Stack
Conduct thorough research on different technology stacks and choose the one that best suits your needs. Consider factors like scalability, compatibility with your existing systems, ease of integration, and long-term support.
Step 3: Design the User Interface
Create a user-friendly and intuitive interface that allows property managers and tenants to navigate the software easily. Focus on features like property listings, tenant information, payment portals, maintenance requests, and communication channels.
Step 4: Develop Core Functionality
Implement the core functionality of the software, including features like property and tenant management, rent and lease tracking, maintenance and work order management, financial management, and document storage. Ensure that each feature is robust, efficient, and tailored to meet your specific requirements.
Step 5: Enhance with Additional Features
Consider adding additional features to enhance the functionality of your software. This may include features like marketing tools, reporting and analytics, communication modules, integration with third-party services, and mobile app compatibility.
Step 6: Implement Security Measures
Implement strong security measures to protect sensitive data and ensure the privacy of your users. This includes encryption protocols, user authentication and access control, regular backups, and vulnerability assessments.
Step 7: Test & Refine
Perform extensive software testing to identify and address bugs or issues, ensuring optimal performance. Additionally, conduct user testing to gather valuable feedback and make necessary refinements, enhancing both user experience and functionality.
Step 8: Launch & Monitor
Once you're satisfied with the performance and stability of the software, launch it for your property management operations. Continuously monitor its performance, gather user feedback, and make updates and improvements as needed.
Step 9: Provide Ongoing Support & Maintenance
Offer ongoing support and maintenance to ensure the smooth operation of your real estate property management software. Address user queries, provide software updates, and stay proactive in resolving any issues that may arise.
Step 10: Stay Agile & Evolve
Stay up-to-date with industry trends, technological advancements, and changing market needs. Continuously evaluate and enhance your software to stay ahead of the competition and meet the evolving demands of the real estate industry.
By following these comprehensive steps, you'll be well-equipped to build and deploy your own real estate property management software, empowering you to streamline operations, enhance efficiency, and achieve greater success in the competitive real estate market.
Essential Features for Real-Estate Software Development
Property management software development requires careful consideration of the essential features that make it robust, efficient, and user-friendly. Here are some key features to incorporate into your property management software:
Property Listing Management: Enable users to easily create, update, and manage property listings, including property details, descriptions, images, and availability.
Tenant Management: Provide tools for managing tenant information, including contact details, lease agreements, rent payments, and communication history.
Rent & Lease Management: Streamline rent collection, automate lease agreements, track payment histories, and generate invoices for seamless financial management.
Maintenance & Work Order Management: Facilitate the creation, tracking, and assignment of maintenance requests and work orders, ensuring timely resolution of issues.
Accounting & Financial Management: Integrate accounting features to track expenses, generate financial reports, handle budgets, and streamline financial processes.
Online Payment Integration: Enable secure online payment options for rent collection, maintenance fees, and other financial transactions, providing convenience to both property owners and tenants.
Document Management: Implement a centralized document repository to store and organize important files, such as leases, contracts, inspection reports, and tenant documentation.
Reporting & Analytics: Provide comprehensive reporting and analytics capabilities to gain insights into property performance, occupancy rates, rental income, and financial trends.
Communication & Notifications: Incorporate features for seamless communication between property managers, tenants, and property owners, including email alerts, notifications, and messaging functionality.
Mobile Compatibility: Ensure compatibility across mobile devices, allowing property managers and tenants to access and manage property-related information on the go.
By incorporating these essential features into your property management software, you can create a powerful and user-friendly solution that streamlines property operations, enhances tenant satisfaction, and boosts overall efficiency in the real estate management process.
Conclusion
Real estate property management software is a game-changer for property managers and landlords. By leveraging the power of technology, you can streamline your operations, improve efficiency, and enhance the overall management of your properties. From automating rent collection to seamless tenant communication, maintenance management, financial reporting, and more, property management software offers a comprehensive solution to simplify and optimize your property management processes.
At WebCodeGenie, we are experts in developing real estate property management software, including websites and apps. Our team of experienced developers understands the unique challenges and requirements of the real estate industry, and we are committed to delivering tailor-made software solutions that meet your specific needs.
Let's discuss your requirements, and together, we can build a cutting-edge real estate property management software solution that will take your business to new heights.