Reading Time:
8
minutes
Did you know that 46% of all Google searches have a local intent? That means there's a massive opportunity to leverage local SEO and attract customers right to your doorstep. In this blog, we'll demystify the secrets behind local SEO and equip you with practical strategies to fuel your online success.
But this won't be your typical SEO journey. We're injecting some fun and excitement along the way! Prepare for quirky anecdotes, entertaining case studies, and engaging content that will keep you hooked as we delve into the intricacies of local SEO.
Whether you're a local business owner or a digital enthusiast, join us on this enlightening adventure. Together, we'll uncover the untapped potential of local SEO and ignite your local business online.
What is Local SEO?
Local SEO involves optimizing a business's online presence to attract and engage customers within a specific geographic area. It involves strategic techniques aimed at improving a company's visibility in location-based search results. In simpler terms, local SEO helps businesses be found by potential customers in their immediate vicinity when they search for products or services online.
But local SEO is more than just appearing in search results. It's about becoming a prominent and trusted local entity. By optimizing various factors such as Google My Business listing, online reviews, local citations, and website content, businesses can increase their chances of appearing in the coveted "local pack" or map results.
Why should Businesses care about Local SEO?
Enhanced Local Visibility: With the increasing use of mobile devices and location-based search queries, local SEO helps businesses become more visible to potential customers in their immediate vicinity. By optimizing for local keywords and implementing location-specific tactics, businesses can increase their chances of appearing in the top search results when people search for nearby products or services.
Targeted Reach: Local SEO allows businesses to target their ideal audience precisely. By optimizing their online presence for local searches, businesses can attract customers who are most likely to convert and become loyal patrons. This targeted approach maximizes the return on investment (ROI) by focusing marketing efforts on the most relevant audience.
Increased Website Traffic and Footfall: When a business ranks higher in local search results, it naturally attracts more website traffic and footfall to its physical location. By capturing the attention of potential customers at the right moment and enticing them with relevant information, businesses can drive more qualified leads, resulting in increased conversions and sales.
Competitive Advantage: Implementing effective local SEO strategies gives businesses a competitive edge, especially in their local markets. By appearing prominently in local search results, businesses can surpass competitors and establish themselves as the go-to choice for products or services in the area. This advantage allows them to capture a larger market share and build a strong brand presence locally.
Trust and Credibility: Local SEO helps businesses build trust and credibility with their target audience. When a business appears in local search results consistently and maintains positive online reviews, it enhances its reputation as a reliable and trustworthy choice. This fosters customer confidence, leading to increased conversions and customer loyalty.
Improved User Experience: Local SEO involves optimizing various aspects of a business's online presence, including website speed, mobile-friendliness, and user experience. By providing a seamless and user-friendly online experience, businesses can enhance customer satisfaction and encourage longer website visits, ultimately boosting engagement and conversions.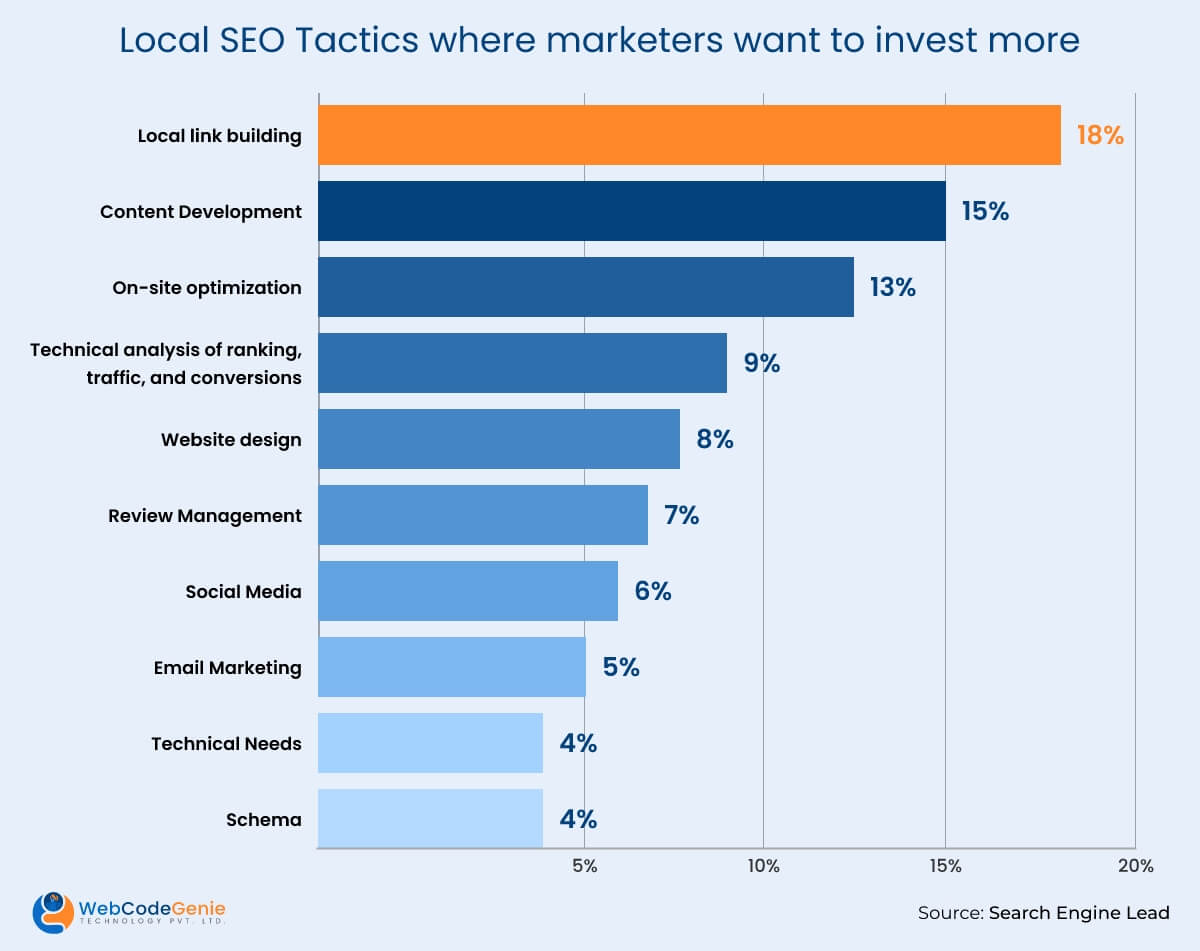 Key Factors that Impact Local SEO
When it comes to local SEO, several key factors play a significant role in determining your online visibility and success in local search results. Let's explore some of these factors that can make a real difference in your local SEO strategy:
NAP Citations (Name, Address, Phone Number): Consistency is key when it comes to NAP citations across various online platforms. Ensuring that your business's name, address, and phone number are accurately and consistently listed across directories, review sites, and social media profiles helps search engines recognize and validate your business information.
Pro tip: Use a citation management tool to ensure accuracy and consistency.
Google My Business Profile Optimization: A well-optimized Google My Business (GMB) profile is crucial for local SEO. Make sure your profile is complete, accurate, and up-to-date, including your business name, address, phone number, website URL, opening hours, and relevant categories. Encourage customers to leave reviews, respond promptly to reviews and questions, and upload attractive photos to enhance engagement and trust.
Pro tip: Regularly post updates, photos, and promotions to engage with customers.
Local Content Creation: Creating high-quality, locally-focused content helps establish your expertise and relevance within your local community. Craft blog posts, articles, and landing pages that address local topics, events, and trends related to your industry. Incorporate location-specific keywords naturally into your content, and provide valuable information that resonates with your local audience.
Pro tip: Incorporate local keywords naturally and provide valuable information specific to your community.
Online Reviews and Ratings: Positive online reviews and ratings not only boost your reputation but also influence local search rankings. Encourage satisfied customers to leave reviews on platforms like Google, Yelp, and industry-specific review sites. Respond to reviews, whether positive or negative, to show that you value customer feedback and are committed to delivering exceptional service.
Pro tip: Engage with reviewers and address negative feedback professionally and courteously.
Local Link Building: Building quality links from local sources can greatly enhance your local SEO efforts. Seek opportunities to collaborate with local organizations, sponsor events, or contribute guest posts on local websites. Engage with local influencers and participate in community activities to establish strong local connections and earn relevant backlinks.
Pro tip: Collaborate with local organizations, sponsor events, and contribute guest posts on local websites.
Mobile-Friendly and Responsive Design: With the majority of local searches occurring on mobile devices, having a mobile-friendly and responsive website is crucial. Optimize your website for mobile viewing, ensuring fast loading speeds, easy navigation, and a seamless user experience across devices. This not only improves user satisfaction but also boosts your chances of ranking higher in local search results.
Pro tip: Test your website's mobile-friendliness using Google's Mobile-Friendly Test tool and make necessary improvements.

Tips for Building Local Backlinks
Guest Blogging: Reach out to local websites or blogs within your industry and offer to write informative guest posts. Include a link back to your website in the author bio or within the content itself. This not only establishes you as an industry expert but also earns you valuable backlinks from relevant local sources.
Participating in Local Events: Get involved in local events, such as conferences, workshops, or charity functions. Sponsoring or speaking at these events not only provides valuable exposure but also opens up opportunities for networking and building relationships with other local businesses. Often, event organizers will link back to sponsors or speakers on their event websites, creating valuable local backlinks.
Engaging in Local Online Communities: Join local online forums, discussion boards, and social media groups that cater to your target audience and geographic area. Actively contribute to conversations, provide helpful insights, and offer advice. When appropriate, share relevant content from your website, ensuring it adds value to the community. This can generate natural backlinks as others reference and share your content.
Collaborating with Local Businesses: Identify complementary local businesses and explore opportunities for collaboration. This could involve cross-promotion, co-creating content, or hosting joint events. By establishing partnerships and mentioning each other on your respective websites, you can create reciprocal local backlinks that benefit both parties.
Local Directories and Citations: Ensure your business is listed in reputable local directories and citation websites. These platforms, such as Yelp, Google My Business, and Yellow Pages, not only provide valuable information to potential customers but also offer opportunities to include backlinks to your website. Consistent and accurate information across these platforms builds trust and signals to search engines that your business is relevant and reliable.

Tools and Resources for Local SEO
Google Search Console: A complimentary tool provided by Google, offers valuable insights into your website's search performance. It furnishes data on search visibility, indexing status, and keyword performance. Furthermore, it aids in identifying and resolving potential technical issues that could impact your website's local SEO.
Moz Local: Moz Local simplifies the process of managing your business's online presence across various directories and platforms. It helps you ensure consistent and accurate business listings, monitor customer reviews, and track your online reputation. By streamlining your local citations, Moz Local enhances your local SEO efforts.
Whitespark Local Citation Builder: This tool assists in building and managing local citations for your business. It helps you discover relevant citation opportunities, ensures consistent listing information, and simplifies the citation-building process. Whitespark Local Citation Builder helps enhance your business's visibility in local search results.
Google My Business: An essential resource for local SEO, Google My Business allows you to claim and optimize your business listing on Google. It enables you to provide accurate business information, manage customer reviews, and engage with your audience through posts and messages. Optimizing your Google My Business profile significantly boosts your local search visibility.
BrightLocal: BrightLocal offers a suite of tools designed to improve your local SEO efforts. It provides features such as local rank tracking, citation building, online review monitoring, and Google My Business optimization. By utilizing BrightLocal, you can gain valuable insights and streamline your local SEO management.
Yext: Yext is a comprehensive platform that enables businesses to manage their online presence across multiple directories, review sites, and social platforms. It helps maintain consistent business information, manage customer reviews, and monitor online reputation. Yext simplifies the process of optimizing and monitoring your local SEO efforts.
SEMrush: While SEMrush is a versatile SEO tool, it offers specific features for local SEO optimization. It provides insights into local keyword research, tracks local rankings, and offers competitive analysis. SEMrush assists in optimizing your website for local search queries, ensuring maximum visibility in your target area.

Emerging Trends in Local SEO
Local SEO is a dynamic field that continually evolves to meet changing user behaviors and search engine algorithms. Staying up-to-date with the latest trends and developments can give your business a competitive edge. Here are some emerging trends in local SEO that you should be aware of:
Voice Search Optimization: Voice search has surged in popularity alongside the emergence of voice assistants such as Siri, Alexa, and Google Assistant. Optimizing your website for voice search queries involves focusing on long-tail conversational keywords, providing concise and direct answers to common questions, and optimizing your content for featured snippets. Voice search optimization enhances your chances of appearing in voice search results and capturing the attention of voice search users.
Local Schema Markup: Local schema markup is a structured data markup that helps search engines better understand your business information, such as your address, phone number, operating hours, and customer reviews. Implementing local schema markup on your website improves the accuracy and visibility of your business details in search results, increasing the chances of attracting local customers.
Mobile-First Indexing: Mobile search has surpassed desktop search, making mobile optimization crucial for local SEO. Google's mobile-first indexing means that the mobile version of your website is prioritized in search rankings. Ensure your website is mobile-friendly, loads quickly, and offers a seamless user experience across devices. Mobile optimization is not only essential for user satisfaction but also for improving your local search visibility.
Online Reputation Management: Online reviews and ratings continue to play a significant role in local SEO. Consumers heavily rely on reviews to make purchasing decisions. Managing your online reputation by actively soliciting and responding to reviews, addressing customer feedback, and providing excellent customer service can positively impact your local search rankings and build trust with potential customers.
Hyperlocal Targeting: As search engines become more sophisticated, they increasingly focus on hyperlocal results. Hyperlocal targeting allows businesses to reach customers in specific neighborhoods or even within a certain radius of their location. Tailor your content and keywords to target hyperlocal searches, such as "best coffee shop in [neighborhood]" or "top-rated plumber near me," to capture local search traffic and generate more relevant leads.
Conclusion
In conclusion, local SEO is the key to unlocking the online success of your local business. By implementing effective strategies such as optimizing Google My Business, building local citations, and engaging in local content creation, you can boost your online visibility and attract targeted local customers.
At our digital marketing company, we specialize in local SEO and can help your business thrive in the local market. Our expert team understands the intricacies of local search algorithms and can tailor a strategy that aligns with your goals and target audience. Whether you're a small local business or a larger enterprise, we have the expertise to optimize your online presence and drive meaningful results.
Don't let your business get lost in the digital noise.