Reading Time:
5
minutes
If you remember having your life or properties insured a few years ago, they would require filling out information on long pages. And insurance agents would take a lot of time to provide quotes. But the situation is changing now, thanks to insurance quoting software. Customers can now fill out less information, and insurance brokers can deliver quotes much faster.
As a result, the necessity of in-person meetings has decreased. Customers are now interested in providing information and getting cost estimates online. This guide will discuss what insurance company software is and how it can benefit insurance companies in various cases.
What is Insurance Quoting Software?
Insurance quoting software is a program that allows customers to fill out all the necessary information to get their insurance. Once they provide information online, insurance software processes and organizes that data. Then, the software provides a cost estimate for all available carriers.
The workflow includes more automation than manual work, so agents can obtain quotes quickly. And customers need to wait a shorter period for the quotations. Insurance estimating software has more useful features that we will talk about in a bit.
What features does Insurance Quoting Software have?
Though the main task of insurance quoting software is to provide cost estimations, it can do more than that. Let's introduce you to the key features of insurance software.
Quote Calculator
The primary focus of insurance software is calculating the inputs from customers and providing them with all the available options to cover the area of insurance. For example, customers or insurance agents can enter the necessary information about the property or health conditions of the customer.
Remember, the required information can differ depending on what area of insurance customers want to get into. The app will then calculate quotes and provide all the options from different carriers. So, long anticipation isn't required to get quotes. And these quotes include much more possibilities than manually estimating costs.
Direct Contact
When customers fill out the information about their property or health conditions, they can reach out to insurance agents for help. Most software for insurance companies will have a chat feature so that the two parties can communicate directly.
If customers get frustrated while filling out the form or don't understand something, agents can extend their help immediately.
CRM Integration
Customer data can be an invaluable resource for insurance companies. Companies can use the CRM integration feature of insurance software to build strong customer relationships. This feature allows companies to export all the necessary data from the quoting software to the CRM.
As a result, companies can address customer needs better and achieve more sales in return. Maintaining communications with customers and providing the required support also becomes more accessible with this feature.
Quote Comparison Tool
When many options are available, it can be challenging for insurance companies to compare the quotes. Such software has a quote comparison tool that allows agents to find the most feasible quotes in no time.
Mobile App
As a large portion of our online tasks can be done through smartphones, online insurance software should also have mobile apps. With the apps, customers can submit their information and get quotes on the go. But the app should be made by a good app development company that follows the best practices to keep customers engaged.
How large is the projected market size for Insurance Software during the forecast period?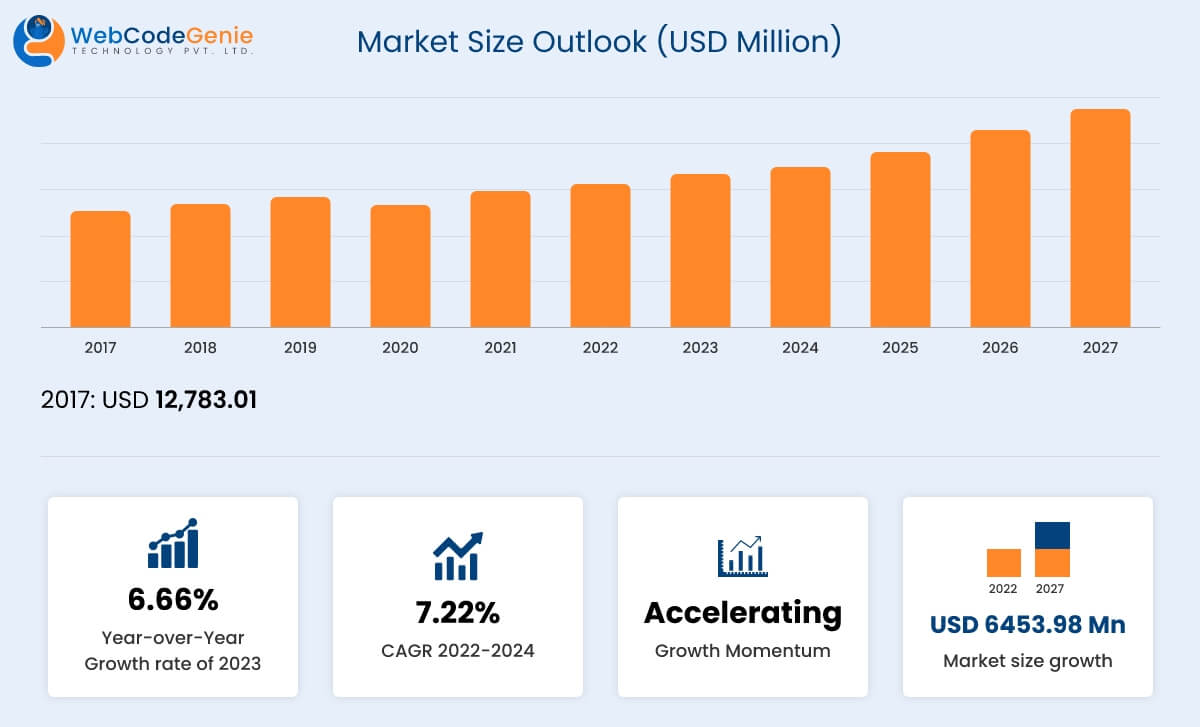 How does Insurance Quoting Software work in different cases?
Insurance companies can use quoting software in many different situations. Here is a quick overview of some everyday use cases.
Health Insurance Quoting Software
The size of the health insurance market was $1.1 trillion in 2021, which is higher than any other insurance category. So, a considerable number of potential clients need the convenience of getting their quotes through this software.
Life Insurance Quoting Software
The market size of life insurance is also huge. So, companies can use life insurance quoting software to provide quotes to customers without needing to collect a lot of information. Also, the manual processing of massive customer data isn't required.
Auto Insurance Quoting Software
Before someone can finance their cars, getting an accurate cost estimation of various insurance policies is crucial. Insurance industry software can reduce a lot of manual tasks in estimating the cost of insurance policies across carriers.
Business Insurance Quoting Software
Protecting all aspects of businesses is crucial nowadays. But it might be difficult for agents to keep up with changing business scenarios. Insurance software can quickly provide essential information for preparing quotes that address business problems correctly.
Benefits and Drawbacks of Insurance Quoting Software
The software provides immense benefits, both for insurance companies and consumers. But they might have some drawbacks too. Here is a quick list.
Pros
The amount of paperwork in the insurance industry is easily higher than in many industries. But when you use insurance quoting software, the need for paperwork is reduced.
Manual calculation isn't required with quoting software. So, automation reduces the processing time of customer requests.
More customers can be served as the process is more efficient, and the revenue is expected to go higher.
Customer satisfaction also increases with the use of insurance quoting software.
With CRM integration, companies can make the best use of customer data to scale the business and grow the customer base.
The software keeps up with the changing trends in the industry and collects the best products possible. As a result, companies can build trust among their customers.
Cons
If the security of the insurance quoting software isn't high, customers can become victims of cybercriminals. Fraudsters might steal sensitive data from customers, which is disastrous for any company. So, a good app development company should be chosen to develop such software.
Conclusion
In conclusion, insurance quoting software offers tremendous benefits for insurance agencies and carriers alike. It brings automation, cost reduction, and improved customer experiences to the forefront of operations. By utilizing insurance quoting software, companies can streamline their processes, enhance lead generation, and provide a more seamless and efficient experience for their customers.
At WebCodeGenie, we understand the significance of insurance technology solutions. Our team is dedicated to providing extensive insurance software development services that cater to the unique needs of each client. We go beyond just offering software support; we take a personalized approach and guide you through the entire process to ensure the success of your insurance business.
If you're seeking to overcome challenges and take your insurance business to new heights, don't hesitate to reach out to us. Together, we can develop a tailored insurance technology solution that will propel your business forward.
Remember, the power of insurance quoting software lies in its ability to transform and revolutionize the way you do business. Embrace this technology, and witness the positive impact it can have on your operations and customer satisfaction.
So, take the leap and unlock the potential of insurance quoting software for your business today!