Reading Time:
4
minutes
Healthcare providers confront several hurdles in today's digital age in order to remain competitive and deliver quality patient care. The healthcare sector is rapidly changing, and it is critical for healthcare practitioners to stay current. The digitalization of healthcare is one of the major shifts that is taking place.
The digitization of your clinic is no longer a choice; it is a need. Healthcare providers may streamline their procedures, improve patient care, and increase their bottom line by implementing digital technology.
In this blog article, we will look at the advantages of digitizing your clinic and how to get started with digital transformation in healthcare.
The Advantages of Digitalizing Your Clinic:
Better Patient Care
Digitization can enhance patient care by facilitating communication between healthcare practitioners, patients, and other stakeholders. Electronic health records (EHRs), telemedicine, and patient portals are examples of digital technology that can assist physicians in better managing patient data, tracking patient progress, and offering more customized care.
Enhanced Efficiency
Healthcare providers may benefit from digitization by streamlining their procedures, reducing administrative hassles, and increasing efficiency. Providers may free up more time to focus on patient care by automating mundane processes and using digital technologies to manage patient data.
Savings On Expenses
By removing paperwork, optimizing operations, and enhancing efficiency, healthcare providers may save money through digitization. Furthermore, by integrating digital technologies like telemedicine, physicians can eliminate the need for expensive in-person visits, which can be especially useful for patients in rural or remote areas.
Improved Patient Experience
Digitization can increase patient satisfaction by making it simpler for patients to access their health information, contact their healthcare providers, and plan appointments. Patients with access to digital tools may feel more engaged in their care, which leads to better levels of satisfaction.
After understanding how healthcare business transformation is beneficial for you, now it's time to learn how to transform your traditional system into a digital system.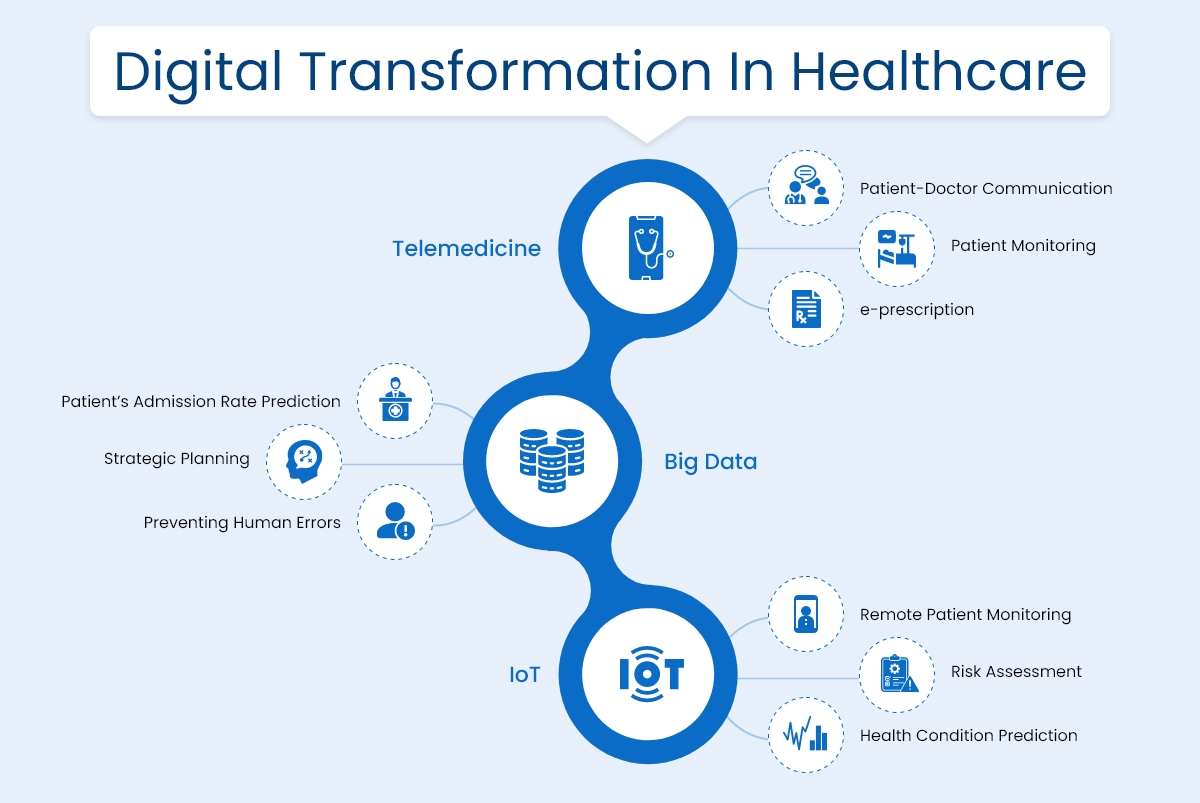 Steps to implement Digital Solutions for your Clinic
Digitization of your healthcare practice can help you enhance patient outcomes, increase productivity, and streamline operations. But, while it may appear to be a challenging task, with proper strategy and execution, the process may be seamless and efficient.
These are some things to keep in mind while digitizing your clinic:
Step 1: Evaluate your current systems
The first step in digitizing your healthcare practice is to take a close look at your current procedures and identify areas that could benefit from digitalization.
Think about how technology could improve patient outcomes, boost productivity, and streamline operations. You may want to consult healthcare IT specialists to determine which areas of your practice would benefit the most from digitization.
To begin, check your present procedures and identify areas that may be digitized. Evaluate your clinic's unique requirements, as well as how technology might enhance patient outcomes and boost productivity. You might wish to talk with healthcare IT specialists to determine which aspects of your practice will benefit the most from digitalization.
Step 2: Choose the right software
After you've determined which aspects of your practice may benefit from digitization, it's time to select the appropriate software. Search for software that is adapted to your clinic's particular requirements.
Consider factors like ease of use, security, and compatibility with other systems. There are many different types of healthcare software available, from electronic health records (EHRs) to practice management systems. Do your research and choose the software that is the best fit for your practice.
There are several possibilities for healthcare software, ranging from electronic health records (EHRs) to practice management systems. Investigate your alternatives and select the best one for your clinic.
Step 3: Train your staff
It's important to provide adequate training to your staff to ensure that they are comfortable and proficient in using the new technology. Give thorough training to your employees to ensure they understand the software and how it works.
Provide ongoing training and opportunities for staff to ask questions and get additional help as needed. This will help your staff adjust to the new technology and feel confident in using it.
Step 4: Implementation should be done in stages
When introducing digitalization to your practice, it's best to take things slow and introduce it in stages. Start with one area of your practice and gradually expand to others, such as appointment scheduling or electronic medical records. This will help your staff adjust to the new technology and minimize disruption to your practice.
Step 5: Ensure security and privacy
Electronic medical records contain sensitive patient data that must be protected. It's crucial to make sure that your digital systems comply with all security and privacy regulations, such as HIPAA. This means ensuring that your software is secure and up-to-date, regularly backing up your data, and training your staff on how to handle patient data safely and securely. By making security and privacy a top priority, you can ensure that your patient's confidential information is protected and your practice remains in compliance with all regulations.
Step 6: Monitor and evaluate
Once you have implemented digitalization in your practice, it's important to monitor and evaluate its success. Use measures like patient satisfaction, staff productivity, and revenue to assess the impact of the new systems on your practice. This will help you determine whether the changes have been beneficial and identify any areas that may require further attention.
Use this data to make any necessary modifications and improvements to your practice's digital systems. By regularly monitoring and evaluating your digital systems, you can ensure that they continue to meet the needs of your practice and your patients.

Wrapping Up!
Digitizing your healthcare practice can lead to numerous benefits for both your staff and patients. By implementing custom healthcare software development solutions, healthcare app development, healthcare application development, or medical app development, you can streamline your operations, boost productivity, and improve patient outcomes.
However, it's important to take a thoughtful and strategic approach to the digitization process. By following these steps, you can achieve a successful healthcare business transformation that suits the particular demands of your practice while providing optimal results for your patients. Don't be afraid to contact IT experts who can assist you in navigating this exciting and revolutionary process.
With suitable digital tools and experience, your clinic can gain the numerous benefits of digitization while continuing to deliver outstanding treatment for years to come.