Reading Time:
5
minutes
What are digital transformation strategies? Or better yet, where do you get started with your company's digital future? Well, let's find out. As concepts such as real-time analytics, IoT, and cloud computing continue to flood the digital world, companies with high digital maturity stand the best chance of succeeding.
Despite years of research and discussions, digital transformation strategies remain to be a daunting topic. Business leaders feel pulled in different directions, inevitably affecting the company's profit margins and brand awareness. Thankfully, this article is in your best interest.
What is a Digital Transformation Strategy?
A digital transformation strategy is a remodeling technique used to upgrade a company's structure using technology for better efficiency, delivery speed, and customer satisfaction.
And here's where most companies get it wrong. The journey to digital transformation is not just a one-off thing-no, siree! There are various components of a digital strategy. This process is continuous. Worldwide spending on digital transformation alone in 2021 reached a whopping $1.59 trillion.
Why do you need a Digital Transformation Strategy?
Our world is becoming increasingly digital. And for that reason, it's imperative for all businesses to have a flexible digital transformation strategy. In the wake of the global pandemic, it became evident that companies must keep up with the ever-evolving digital space and the consumer's meticulous tastes and standards to survive.
Organizations must be able to quickly adapt to supply chain disruptions, market pressures, and rapidly changing consumer expectations. In the past, we have seen many businesses, once global leaders fail due to the conviction that only true-and-tried strategies are enough. Once an organization continues giving its client base a disconnected experience, that's a major recipe for failure.
In fact, according to a survey, one-third of Americans are likely to switch companies based off one poor customer experience. But all is not lost. Digital transformation could potentially increase your customer satisfaction by at least 20-30%. With an effective digital transformation strategy, brands can provide a more personalized experience, increase efficiency, enhance agility, keep up with the latest industry trends, and generate new sources of income.
8 Key Components of a Digital Strategy
When approached holistically, there are eight elements of digital transformation strategies. These elements should be considered if you want to cement the success of your business.
1. Leadership Restructuring
At the heart of any strategy, you must ensure you have the right leaders on the job. The idea is to have someone who can steer the entire ship in the right direction as you get started with this strategy. Visionary leaders and the right digital transformation strategy will lead to a cost-effective, smooth, and timely plan to transform your business.
2. Communication & Culture Change
Your company will go through a drastic culture change. Unfortunately, employees and clients are typically reluctant to adapt to significant changes, which might make it difficult for your company's digital transformation strategy.
One of the critical components of digital transformation is culture. That being the case, preparing your staff and clients for this in advance is crucial. You can get started by talking to your employees about digital transformation and its benefits and conducting training sessions. Communicate with your staff as much as possible to smoothen the implementation of this strategy.
3. Digital Transformation Optimization
Business owners should optimize the company, including processes such as digital transformation strategies. The goal is to ensure the transformation strategy happens effectively and with optimum precision, which could positively impact the company's yield.
All businesses should cover the digital optimization framework with maximum output in mind. More importantly, it would help if you relied on valuable data from the years to make informed decisions.
4. Data in Digital Transformation
The primary reason for a digital transformation strategy is to alleviate some challenges that impact your customers and employees. And to get a clearer picture, you will need to do data analysis and interpretation.
Data analysis and its results highlight some loopholes that can easily be missed in normal circumstances. Therefore, before implementing any digital transformation strategy, take your time to analyze the data your company has been collecting over the years.
5. New Digital Transformation Trends
Technology has proven to be the other unquestionably vital step in creating a digital transformation strategy. Enterprises must evaluate their systems and implement appropriate new-age technologies to provide seamless, integrated, and native customer and employee experiences.
That may include new-age technologies such as artificial intelligence, cloud computing, IoT, automation, cybersecurity, and big data analytics. After all, a well throughout-out digital transformation framework considers a company's present and future needs. Also, it guarantees scalability, adaptability and seamlessly integrates with the existing systems.
Taking new technologies into your digital transformation journey will help your business have a smooth transition through the transformation process. Also, it overcomes flawed processes and creates a company that is well-prepared for the future so that algorithmic changes don't interfere with customer experiences.
6. Team Structure
Undoubtedly, digital transformation is not just about tools; it's about people. That said, your team structure is a significant determinant of the outcome of this strategy. Above all, the size of your project will directly influence the team structure. Ensure your team is up to date with the project, or if they can't match up with the skills, consider hiring experts in the field.
7. Partners
Your company deserves to capitalize as much as it can on digital transformation strategies. An ideal way is to partner with technology enterprises that will positively impact your digital transformation strategy.
However, before jumping into some of the partnerships available, remember to consider your future vision. If possible, partner with a company capable of solving several pain points in your company. That will determine what strategy you should put in place for your company.
8. Digital Transformation Analysis
The result of your company's digital transformation will greatly influence the strategy you use. More importantly, the process will also differ depending on the practices and technology you implement. Your team should be flexible enough to look at the results and make the necessary adjustments.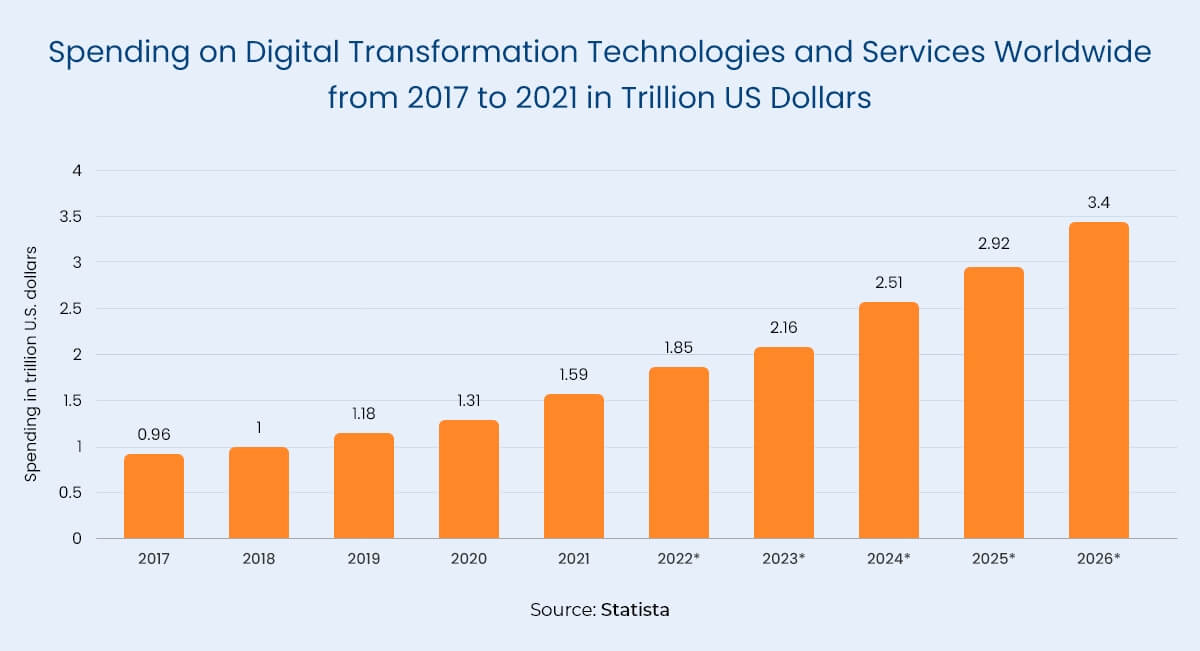 Conclusion
Well, there you have it! The digital transformation strategy is highly focused on prerequisites. Before implementing any effective methodology, take your time to look at these components. An effective digital transformation strategy should be seamless and eventually profitable for your business.
FAQ
Q: Why does digital transformation matter?
A: Digital transformation is vital for any business that wants to remain relevant and competitive in the modern marketplace. It improves a business's efficiency and ability to meet shifting customer expectations.
Q: What causes digital transformation projects to fail?
A: The main reasons why digital transformation projects fail, as cited by a Harvard Business Review Report are; disagreement among the leaders on the project's overall goal and inadequate capabilities to support the scalability of digital transformation.
Q: How can a brand jumpstart a stalled digital transformation journey?
A: If your business hits a wall with its digital transformation methodology, you can jumpstart the process by reviewing and clarifying the goals of the transformation project, launching internal communication channels, and restructuring your business change management strategies.