Reading Time:
5
minutes
Live streaming applications such as Netflix, Amazon Prime, and YouTube are attracting online viewers by the millions through their services. And the numbers show that this will continue to be the trend, with the global video streaming market expected to reach nearly 330.51 billion US dollars by 2031.
As an entrepreneur, such numbers offer an excellent opportunity to create your very own streaming app. It's natural to want an on-demand video streaming app like Netflix, as it's the most dominant online streaming service. But what will it cost to build an app like Netflix? Well, let's figure it out, shall we?
Quick Recap: All You Need To Know About Netflix
The best way to learn about the overall cost of your Netflix clone app development is by understanding the original app first. Netflix started way back in 1997 as a company that rented out DVDs by mail for a fixed monthly fee. This company has been in the game for quite a while.
So, ensure you set realistic expectations if you want to enter this field. Remember that your online streaming app might take some time before it blows up to compete with the likes of Netflix and YouTube. It wasn't until 2007 that Netflix let its subscribers watch their favorite shows directly from their PCs.
And by 2012, Netflix had become an active distributor, later topping the list of movie streaming apps for Android and iOS. This company has a vast catalog of movies and shows in different languages, keeping its viewers glued to the platform.
The dominance of this app in the streaming world is quite noticeable. However, through Netflix, we now have a niche once viewed as an impossible industry that could never make it to the big leagues. That said, there's still a lot of opportunity in this field.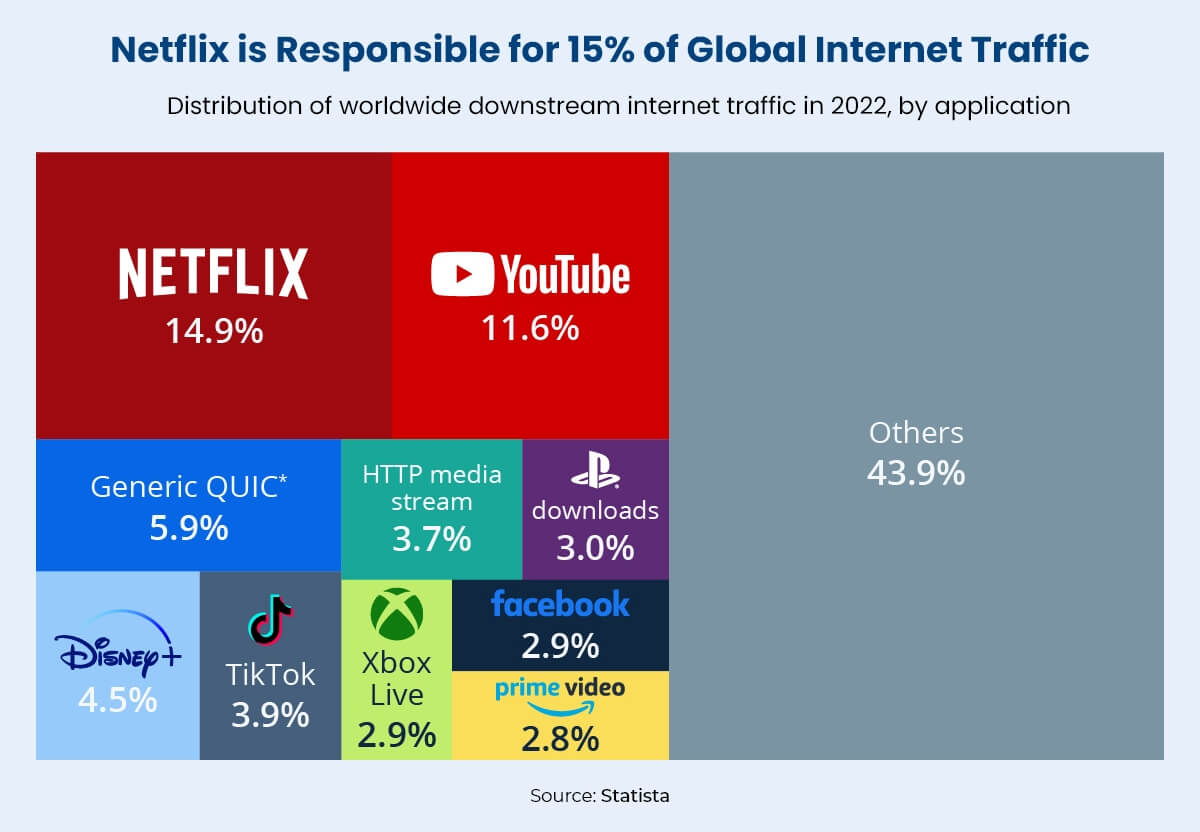 Factors Affecting the Development Cost of a Video Streaming Platform
Developing an app like Netflix is a long and complex process that will likely take a lot of your time. So, before you start the development process, it would help if you kept in mind all the factors that will contribute to the development cost of your app.
App Development Process
A primary factor you should keep in mind that will affect the development of an app similar to Netflix is the development process. You can either choose to work on an app in-house or outsource it to an app development company.
Application features
This factor is a no-brainer! What do I mean? Well, the final cost of your app will greatly depend on the features added to the platform. For example, if you want some nice and fancy features, that will cost you more money and resources. On top of that, the complexity levels will greatly affect the overall cost.
Technology Stack
Undoubtedly, the technology used when designing an app will likely determine the overall cost. Therefore, you must create an app that can handle heavy loading.
And that starts with choosing the right technology stack for building the app. Your budget should allow you to easily add new features to your app or make updates to improve the user experience.
Cloud Hosting
Many video streaming companies rely on cloud hosting to avoid many overhead costs. While cloud hosting is more reliable, it doesn't come cheap. Ensure your budget can accommodate sudden spikes in the future, especially when you want to deliver live content.
Streaming Devices
Since the primary purpose of your OTT app is to deliver video content, keep in mind the devices people would want to watch the content on. With that in mind, focus on providing an app that can function on all the standard streaming devices.
That includes Android TVs, Windows, iOS, Amazon Firestick, and Google Nest. A multi-support app also demands extensive resources, primarily affecting the development cost.
Content Delivery
You need to provide content regularly for your app. And if you aim to have a versatile audience, your content must also be universal, or even better, available in multiple languages. Creating or buying such content won't come at a small cost. As you figure out the budget, remember that you need a minimum of a year's worth of content.
Content Protection
As you buy and create content to deliver to users on your OTT platform, it's vital that you also separate funds for licensing and protection. You will need funds to register your content with Digital Rights Management.
Payment Gateway
Monetizing your app is now more important than ever, especially in this field. So, don't forget to think about the path that you will use to charge your customers. More importantly, go with a payment gateway that has high levels of security.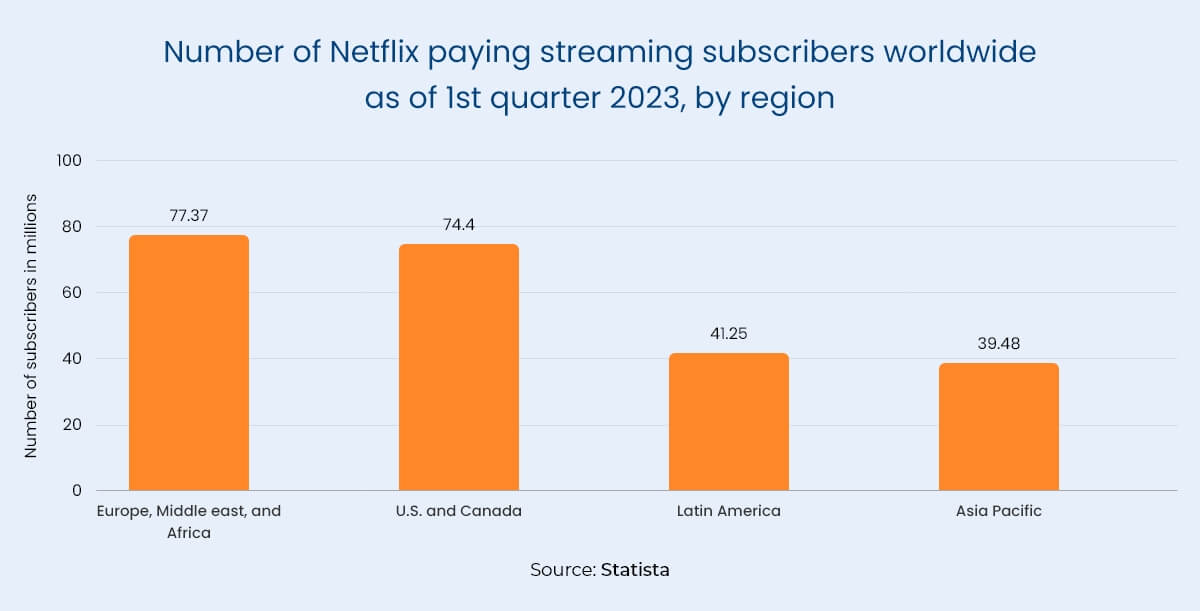 So, what is the cost of building a streaming app like Netflix?
You need to consider the range of factors affecting the development cost of building an app like Netflix. And with that in mind, the budget range should be between $20,000 and $500,000.
How do you develop an app like Netflix?
Designing an app isn't as easy as most people think. Yes, that's right! This process will take a lot from the owner. Some owners with coding skills choose to work on the app on their own. While others prefer outsourcing to an app development company.
All in all, whether you are working alone or with an app developer, the video streaming app can be designed to fit your specific ideas and strategy. The best thing is always to take into account your budget, time frame, and the audience you want to target.
More importantly, it would help to always think about how to monetize the app to bring profits to your company. Application monetization is the most effective way to generate revenue for your app. Your online video streaming app business can make money through subscription plans, in-app ads, online purchase promotions, and adding charges for multiple viewings. These are ideas you need to keep in mind as you work on building your app.
Summary
Ultimately, the cost of building an app like Netflix will likely vary depending on several factors and the resources at your disposal.
The video industry has a rich history and a vast library of content, and with the emergence of new apps, the industry continues to thrive. If you have an innovative idea for building a unique on-demand video streaming app, like Netflix, we can help turn your vision into reality. Our mobile app development company has extensive experience in developing mobile and web applications across multiple platforms. Rest assured, we can create an awesome app tailored to your preferences.