Reading Time:
10
minutes
Life's getting busier for parents, and it's tough to find reliable help. That's where babysitting apps come in. They're like superheroes for modern parents, making it easy to find a babysitter whenever you need one.
In our guide on "Babysitting App Development: Features & Costs Explored," we're going to talk about how these apps use smart technology to meet the growing demand for childcare. No more old-fashioned ways of finding a babysitter—now, it's all about using an app and letting tech do the work. We'll discuss the essential features and costs, making parenting a bit simpler!
What Is an On-Demand Babysitting App?
An on-demand babysitting app is a digital platform designed to connect parents with qualified babysitters efficiently. These apps simplify the process of finding immediate childcare assistance by allowing users to search for available babysitters based on location, availability, and user reviews. With features such as real-time updates, secure in-app messaging, and transparent review systems, on-demand babysitting apps provide a convenient and reliable solution for parents facing unexpected scheduling conflicts. These digital platforms leverage technology to streamline the process of securing trusted childcare services, offering flexibility and peace of mind to busy parents on the go.
How Does an On-Demand Babysitting App Work?
In the hustle of modern parenting, on-demand babysitting apps step in to simplify the quest for reliable childcare. Let's explain how these digital platforms operate, offering a practical solution for busy parents.
Parents Sign In to the App: Parents kick off the process by signing into the app. A personalized account allows them to explore available babysitters and access features tailored to their childcare needs.
Search for a Babysitter Near Their Location: Using the app's intuitive search function, parents can effortlessly find babysitters in their vicinity. Whether it's a last-minute arrangement or a planned event, the app makes location-based babysitter discovery a breeze.
Review Babysitters' Profiles: Before making a decision, parents get the chance to review detailed profiles of potential babysitters. This includes essential information, qualifications, and ratings from other parents, offering valuable insights to aid in their selection process.
Book/Schedule for Later: Once a suitable babysitter is identified, parents can seamlessly book or schedule their services for later. The flexibility to plan in advance or make impromptu arrangements adds a layer of convenience to the entire process.
Babysitter Accepts the Request: Upon receiving a booking request, the babysitter reviews the details and, if available, accepts the assignment. This mutual confirmation ensures that both parties are on the same page and ready for the babysitting session.
Babysitter Arrives at the Location: When the scheduled time arrives, the babysitter makes their way to the specified location. Whether it's the family home or a designated spot, the app's geolocation features ensure a smooth and efficient meetup.
Payment Post-Service Completion: After the babysitting service is successfully completed, the app facilitates a secure and straightforward payment process. Parents can make payments hassle-free within the app, eliminating the need for cash transactions.
Rate & Review: The conclusion of the babysitting session prompts both parties to participate in the feedback loop. Parents have the opportunity to rate the babysitter's performance and leave a review. This not only helps future parents make informed decisions but also acknowledges the babysitter's efforts.
In essence, this step-by-step journey within the app ensures a user-friendly, transparent, and secure experience for both parents and babysitters.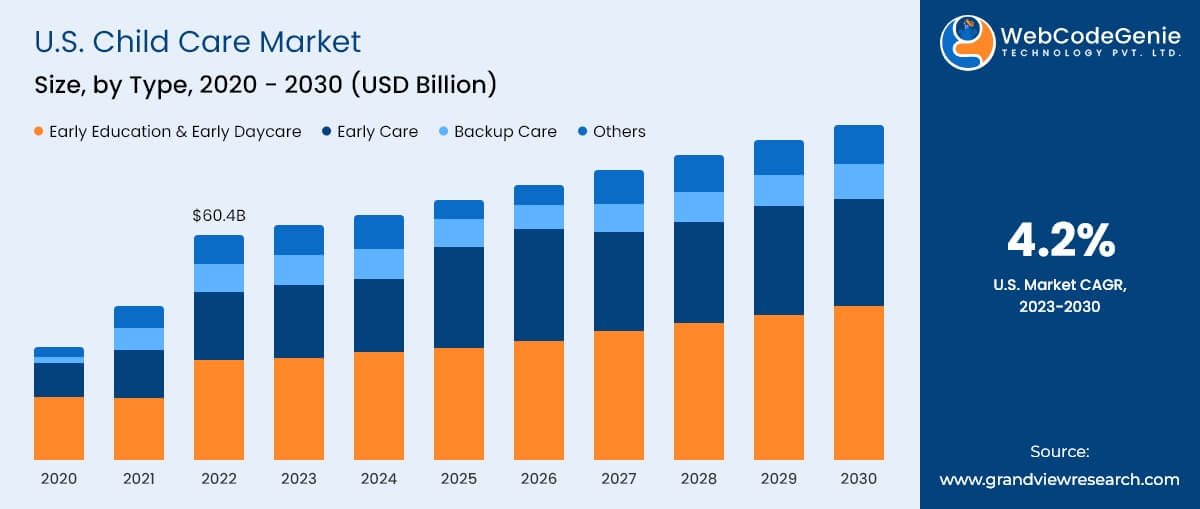 Advantages of Developing a Babysitting & Nanny Finder App
In today's busy world, apps for finding babysitters and nannies are changing the way families get childcare help. Here's why these apps are making life easier.
Advantages of the Mobile app for Parents:
Quick Access to Trusted Helpers: Connect with reliable caregivers fast, reducing the stress of finding trustworthy assistance.
Easy Planning: Schedule childcare effortlessly, whether it's a last-minute need or a planned event.
Detailed Caregiver Profiles: Access comprehensive profiles with caregiver qualifications, experience, and feedback from other parents.
Find Nearby Helpers: Use location services to discover caregivers close to your home, ensuring quicker assistance.
Safe Communication: Directly communicate with caregivers through the app, ensuring a clear understanding of plans and details.
Instant Updates: Receive real-time updates and notifications about caregiver availability and booking confirmations.
Easy Payments: Make secure payments within the app, eliminating the need for cash transactions.
Reviews You Can Trust: Share experiences by leaving reviews and helping other parents make informed decisions.
Extra Safety Measures: Benefit from safety features such as background checks and identity verification for added peace of mind.
Saves Time and Money: Save time and effort in searching for childcare, with a cost-effective solution compared to traditional methods.
Advantages of the App for Babysitters and Nannies:
Increased Job Opportunities: Access a broader network of potential jobs, increasing opportunities for work.
Flexible Scheduling: Enjoy the flexibility of accepting jobs based on personal availability and preferences.
Enhanced Visibility: Build a strong profile with qualifications and receive visibility within the app's caregiver community.
Improved Communication: Communicate directly with parents through the app, streamlining coordination and clarifying expectations.
Real-Time Job Notifications: Receive instant notifications for job opportunities, ensuring quick response times.
Secure Payments: Receive payments securely through the app, providing a hassle-free financial experience.
Transparent Reviews: Accumulate reviews and ratings to showcase your skills and reliability to potential employers.
Safety Assurance: Benefit from safety features implemented by the app, including background checks and identity verification.
Professional Growth: Enhance your professional reputation and gain experience through diverse job opportunities.
Streamlined Process: Enjoy a simplified and efficient process for finding jobs and managing bookings, making childcare work more manageable.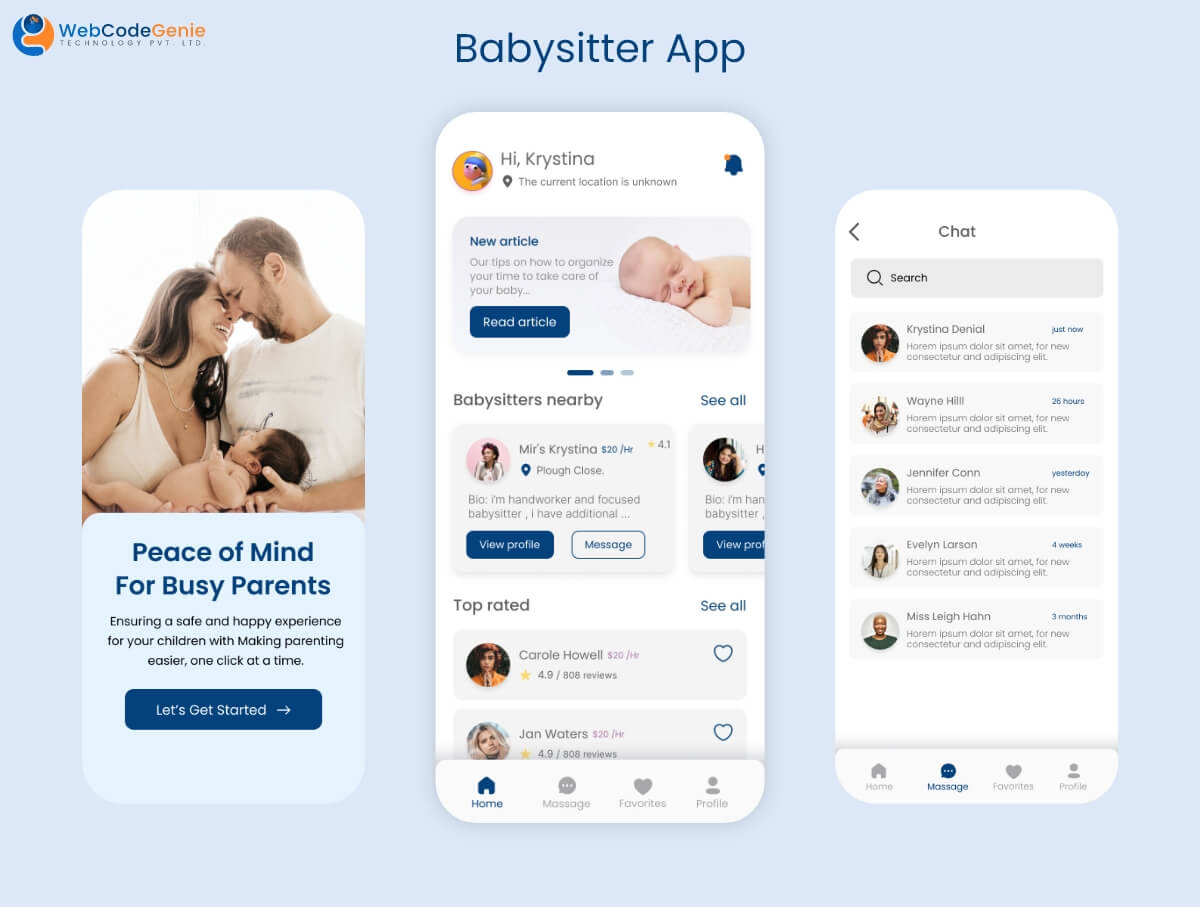 How to Build a Babysitting App Like Uber?
Creating a babysitting app similar to Uber is a game-changer for childcare. This guide outlines the essential steps—from unique features to seamless development—to build a user-friendly solution for parents and caregivers.
Define Your Unique Value Proposition: Clearly outline what makes your app unique, whether it's a special feature, safety focus, or personalized matching.
Market Research and Target Audience: Understand your target audience's needs through market research, identifying demographics and preferences.
Choose App Features Wisely: Determine essential features for parents and caregivers, including profiles, real-time availability, geolocation, in-app communication, secure payments, reviews, and background checks.
Design an Intuitive User Interface (UI): Create a user-friendly interface for easy navigation, enhancing the overall user experience.
Incorporate Geolocation Services: Implement geolocation features for proximity-based matching, enabling parents to find nearby caregivers quickly.
Safety Measures and Background Checks: Prioritize safety by including background checks and identity verification for caregivers.
In-App Communication System: Develop a secure messaging system for direct communication between parents and caregivers.
Real-Time Updates and Notifications: Integrate real-time updates and notifications to keep users informed about caregiver availability and booking confirmations.
Secure Payment Gateway: Implement a secure payment gateway for seamless transactions within the app.
Build a Review and Rating System: Develop a transparent review and rating system to enhance the credibility of your platform.
Mobile App Development: Choose a mobile app development platform and begin the development process, ensuring compatibility across various devices.
Testing and Quality Assurance: Conduct rigorous testing to identify and rectify any bugs or issues, ensuring a smooth user experience.
Launch and Marketing Strategy: Plan a strategic launch using digital marketing channels, social media, and partnerships to attract users.
Continuous Improvement and Updates: Gather user feedback and make continuous improvements based on experiences, keeping the app relevant and competitive.
Legal Compliance: Ensure your app complies with relevant legal regulations, including data protection and privacy laws.
Uber's success story holds valuable lessons for developing your babysitting app. Begin modestly, gradually adding complexity as your budget allows. For those with financial constraints, a basic app startup can be the ideal starting point. Collaborating with an app development company enables you to scale according to your financial capacity. This approach draws inspiration from Uber's journey, offering a strategic guide to building a babysitting app that grows organically, providing a reliable solution for families.
Top 10 Babysitter Apps
These top 10 babysitter apps provide a range of options for parents, from on-demand services to comprehensive caregiver databases, ensuring a suitable app for every family's childcare needs.
Sittercity is a comprehensive platform connecting parents with experienced babysitters. Its user-friendly interface and extensive database make finding reliable childcare a breeze.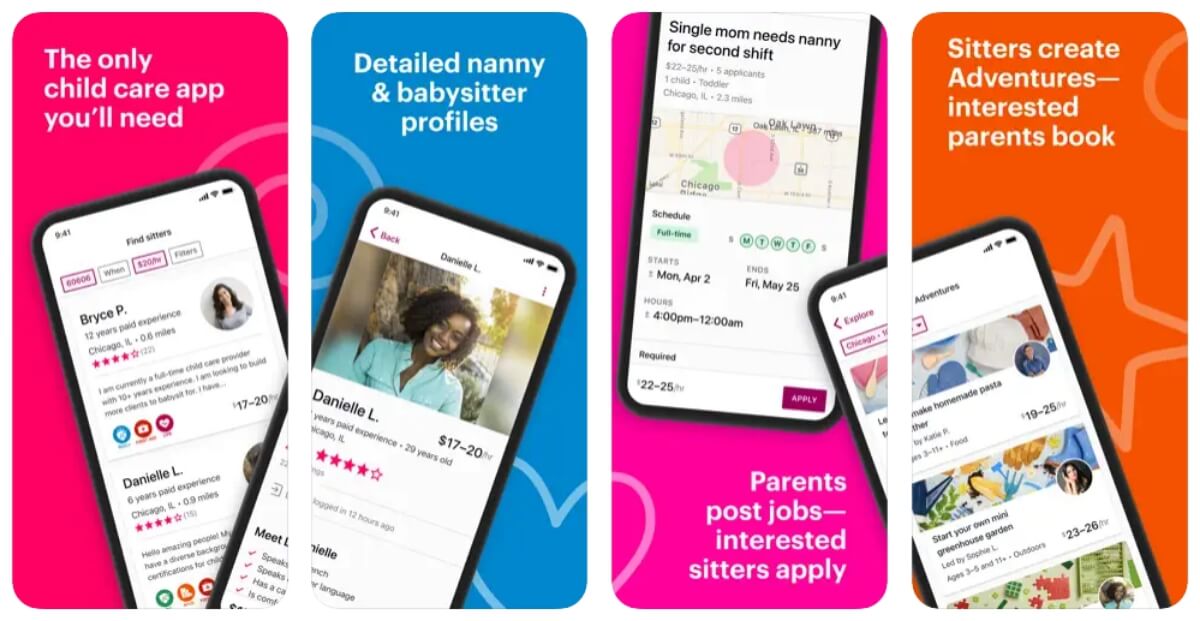 Care.com is a go-to platform for hiring various caregivers, including babysitters. It provides a diverse range of services, offering parents a one-stop solution for their childcare needs.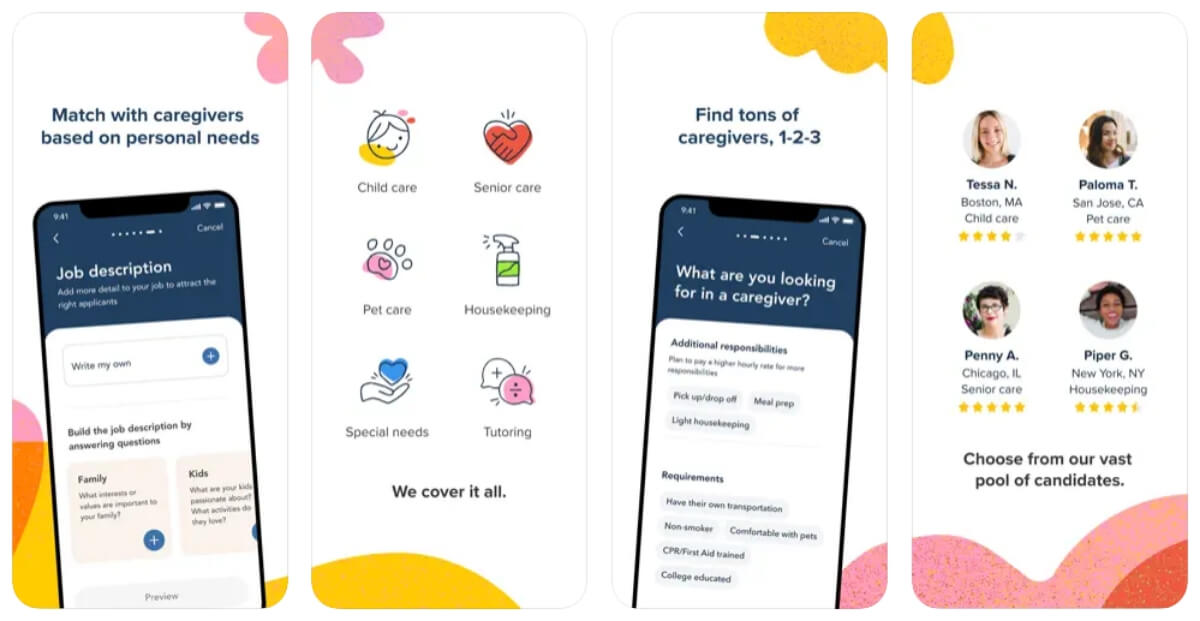 Bambino streamlines the babysitting process by connecting parents with local, trusted sitters. Its easy-to-use app and community-driven approach make finding the right caregiver simple.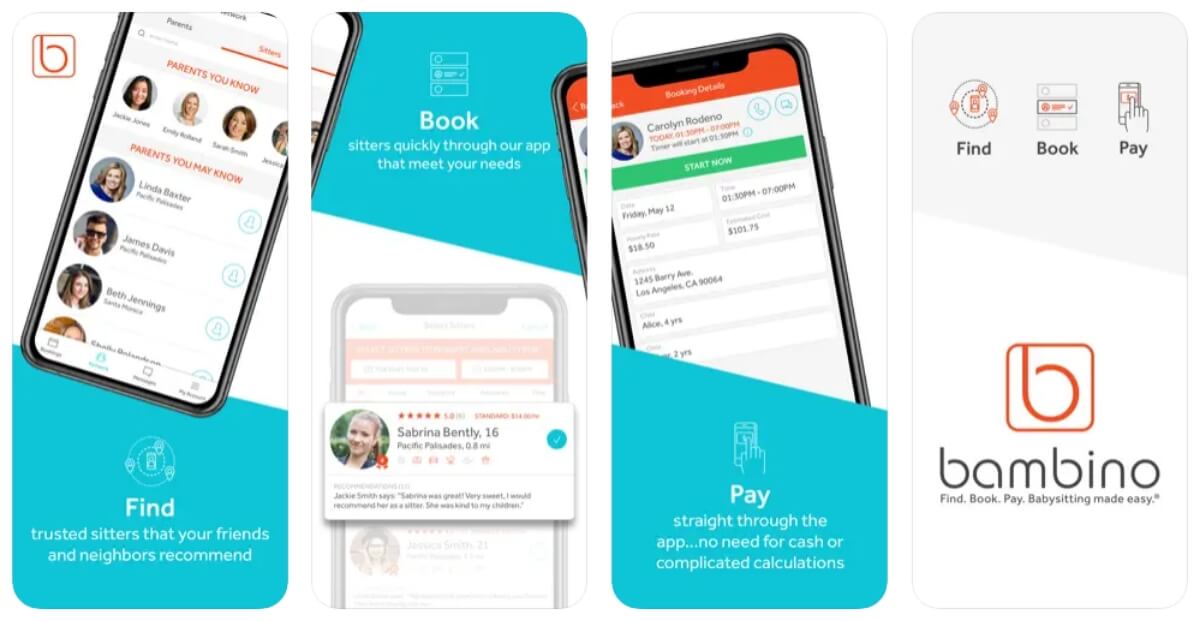 While not exclusively a babysitter app, Baby Connect is a must-have for parents. It allows caregivers to log activities, and track feeding and sleep schedules, ensuring seamless communication between parents and babysitters.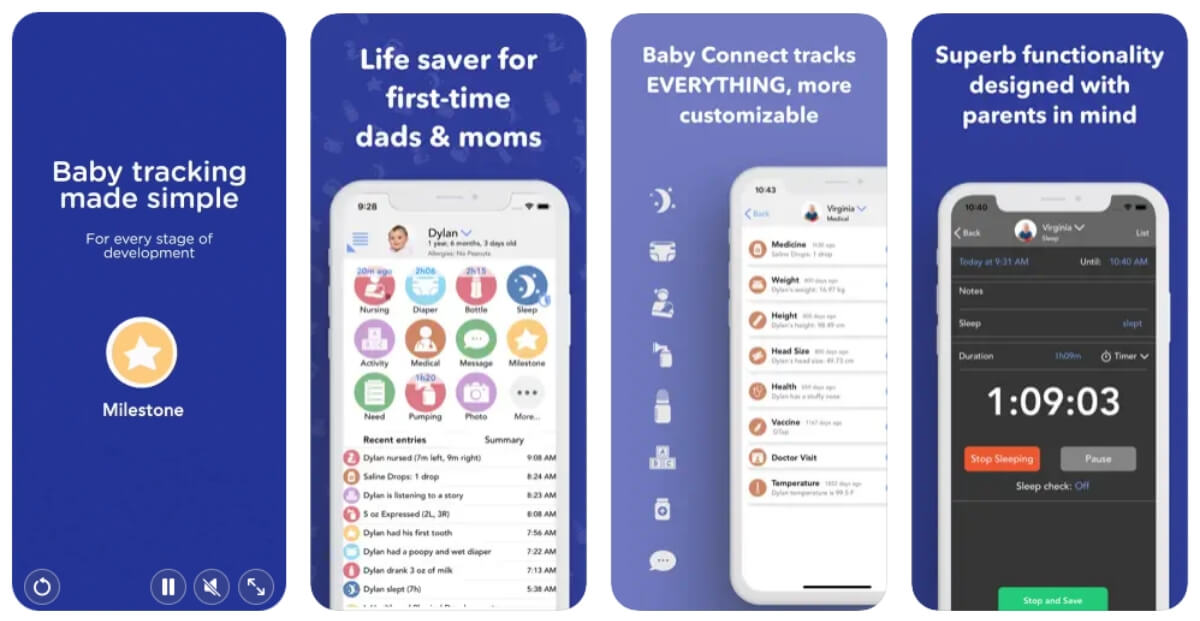 Bubble takes a unique approach by providing on-demand babysitters. Parents can discover and book available sitters quickly, making it convenient for last-minute childcare needs.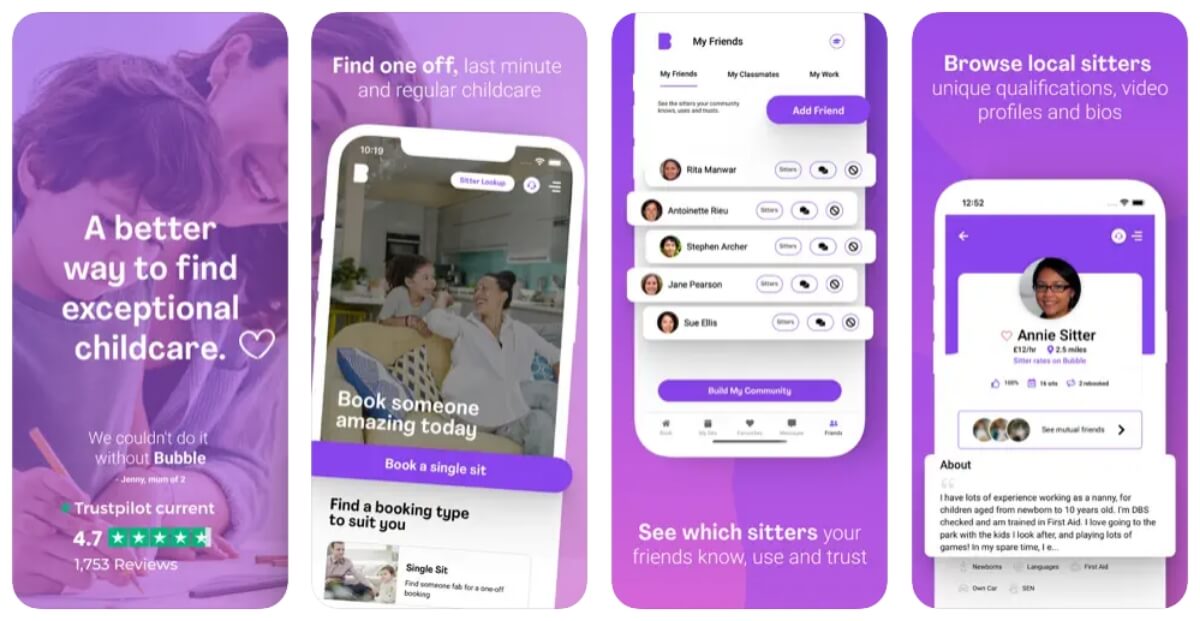 Babysits offers a global platform for parents to find local babysitters. Its wide-reaching network makes it easy to connect with caregivers, whether for a night out or regular childcare.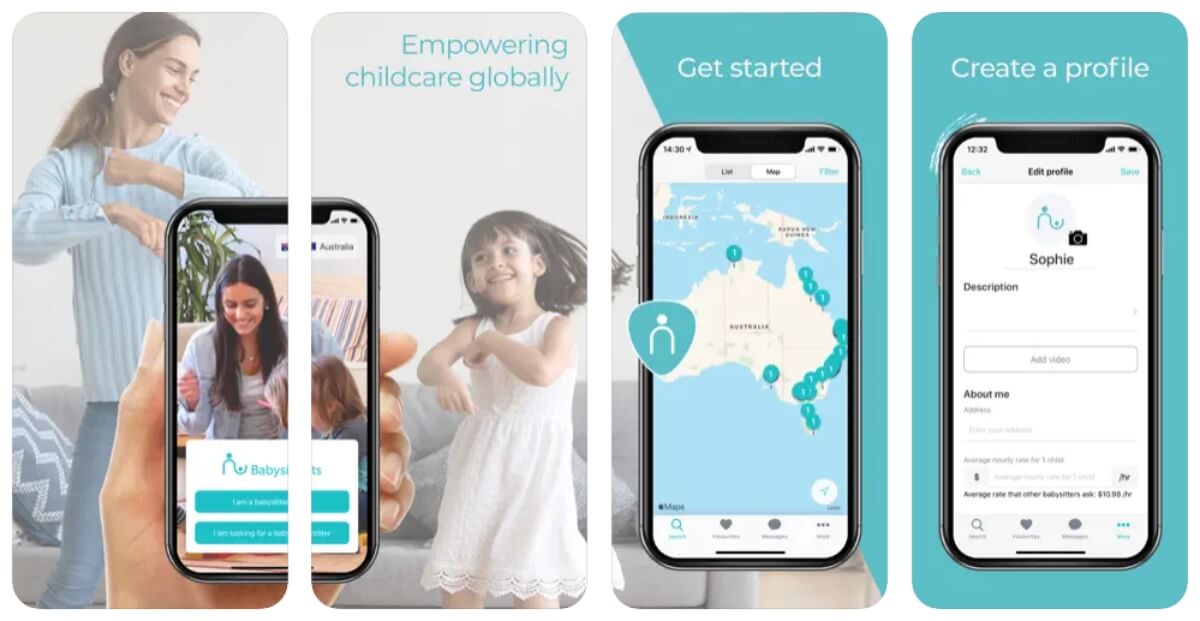 Juggle goes beyond babysitting, offering a range of family services. Parents can find various caregivers from tutors to pet sitters to meet their family's diverse needs.
Daily Nanny focuses on providing parents with a daily overview of their child's activities while in the care of a babysitter. It enhances communication and transparency between parents and caregivers.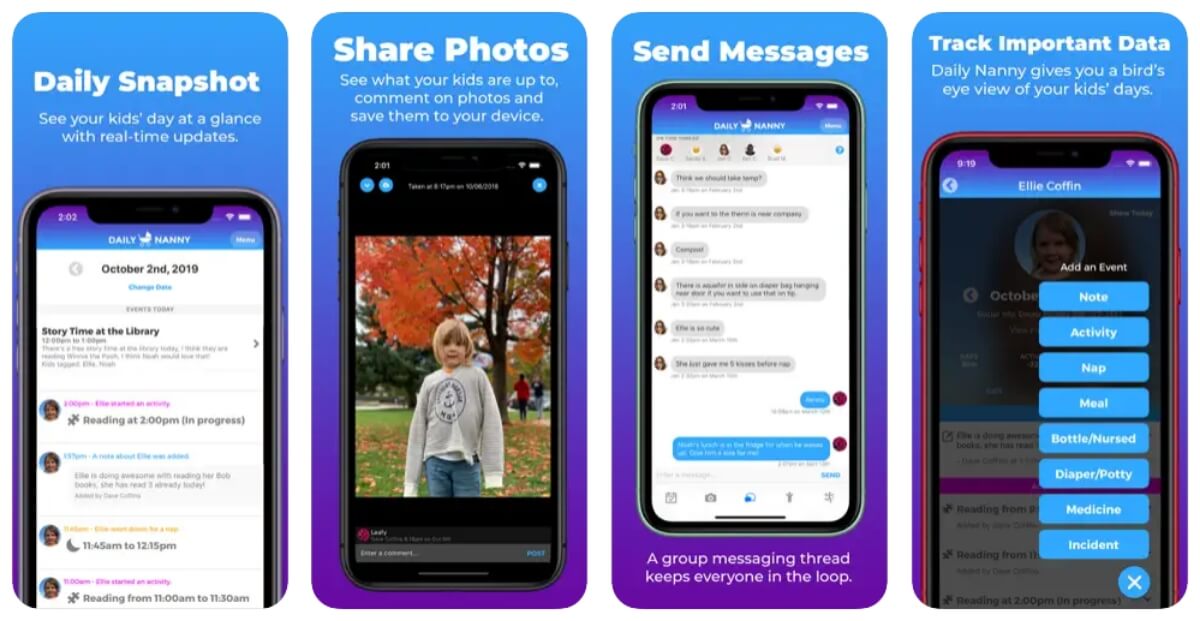 Sittr simplifies the process of finding and booking babysitters. Parents can browse profiles, read reviews, and book sitters directly through the app, ensuring a hassle-free experience.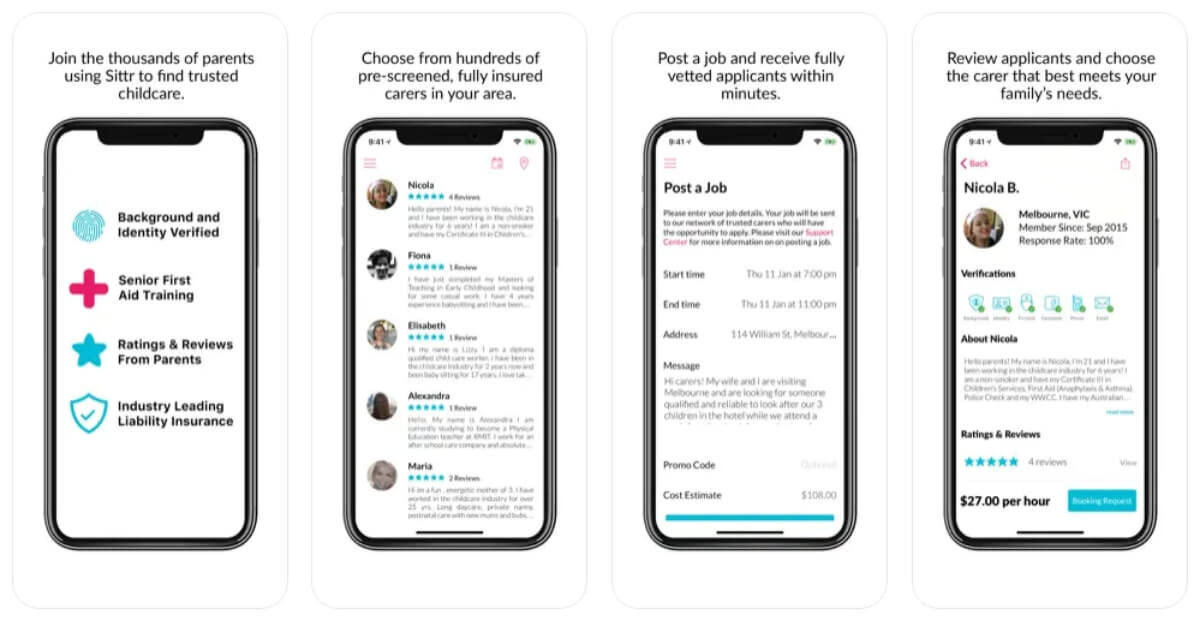 Usit offers on-demand babysitting services, catering to parents who need immediate childcare. Its straightforward platform allows parents to find available sitters quickly.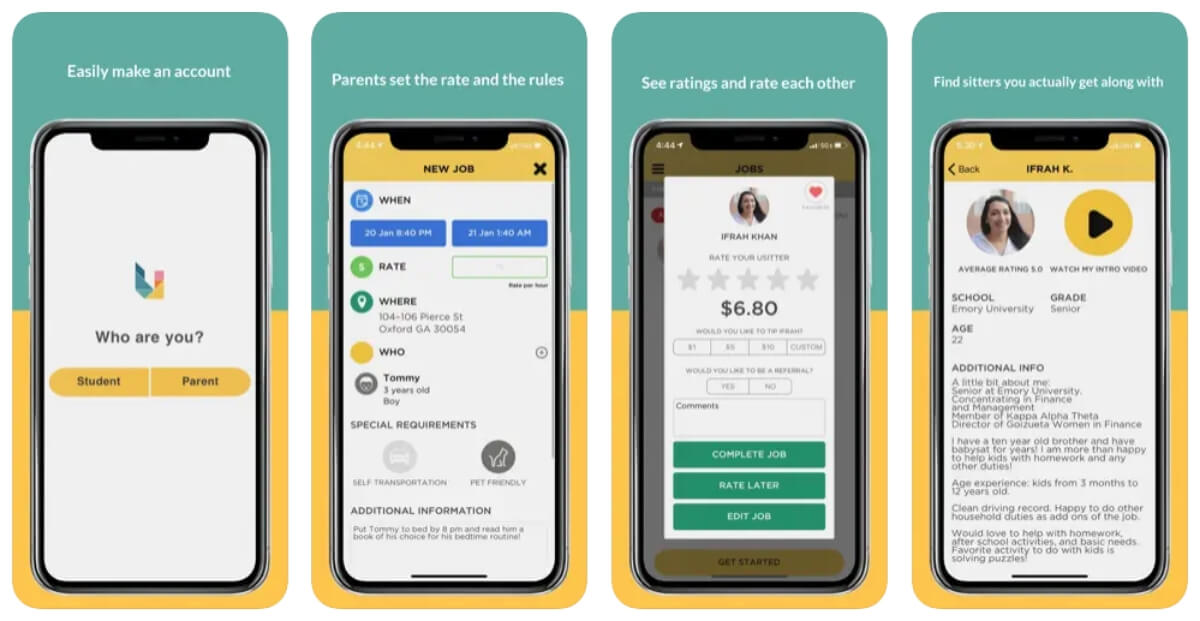 How to get profit with a Babysitter or Nannyfinder App?
Building a Babysitter or Nanny Finder App not only provides a valuable service but can also be a lucrative venture. To turn your app into a profitable business, consider implementing these strategic approaches:
Freemium Model: Introduce a freemium model where basic app services are free, enticing users to sign up. Offer premium features, such as advanced search filters, background check verification, or priority support, as paid upgrades.
Subscription Plans: Implement subscription plans for parents and caregivers. Provide memberships with different tiers, offering diverse levels of access and benefits. Monthly or yearly subscription fees can contribute to a steady stream of revenue.
Transaction Fees: Charge a small transaction fee for each successful booking made through the app. This approach allows you to earn a percentage of the payment exchanged between parents and caregivers.
Featured Listings: Provide caregivers with the option to have their profiles featured for a fee. Featured listings increase visibility, giving them a competitive edge and attracting more potential bookings.
In-App Advertising: Partner with relevant businesses to display targeted advertisements within the app. Local businesses, children's product manufacturers, or educational services can benefit from reaching your user base.
Partnerships and Sponsorships: Explore partnerships with childcare-related brands or organizations. Collaborate on promotions, exclusive discounts, or sponsored content to generate additional revenue.
Affiliate Marketing: Incorporate affiliate marketing by promoting products or services related to childcare. Earn commissions for every user who makes a purchase through affiliate links within the app.
Premium Placement: Offer premium placement options for babysitters or nanny profiles. Allow caregivers to pay for increased visibility in search results, making it more likely for them to be selected by parents.
Expand Services: Consider expanding your app's services beyond babysitting and nanny-finding. Introduce additional features such as tutoring services, pet sitting, or housekeeping, and charge a fee for each service category.
In-App Purchases: Integrate in-app purchases for virtual goods or enhanced features. This can include virtual gifts, badges, or special icons that users can buy to enhance their profiles or interactions.
Premium Support: Offer premium customer support services for users who subscribe to a higher-tier membership. Provide faster response times, dedicated support agents, or priority dispute resolution.
By implementing a combination of these revenue streams, you can create a sustainable and profitable business model for your Babysitter or Nanny Finder App. It's essential to continuously assess user feedback and market trends to refine your monetization strategy for long-term success.
What is the Development Cost for Creating a Babysitter app?
When venturing into the development of your on-demand babysitting app, it's vital to understand the factors influencing costs. Unlike a fixed amount, the investment varies based on several considerations. This underscores the importance of adapting the development approach to meet specific business needs. Typically, launching a babysitter finder app starts with an MVP budget of around $20,000. For a more feature-rich app with advanced functionalities, our experienced business analyst is here to thoroughly analyze your requirements. Get in touch with us for a customized quote that suits your needs.
Several key factors contribute to the fluctuation in cost:
Features: The inclusion of features significantly impacts the development cost. A more feature-rich app tends to have a higher price point.
Complexity: The complexity of an application, driven by intricate features and functionalities, directly correlates with increased development costs.
Size: Businesses often aspire to incorporate unique features and technologies, leading to an expansion in the app's size and subsequent elevation in development costs.
Development Platform: The choice between developing for Android or iOS introduces variability in costs. Developing a babysitting app for Android may entail higher expenses compared to the iOS platform.
Tech Stack: The technological requirements of an app contribute significantly to costs. While some apps can thrive on basic tech stacks, others demand more advanced technologies, influencing the overall investment.
Developer's Location: The geographical location of the development team also plays a role. Hire mobile app developers that offer quality services at reasonable prices.
Balancing these factors enables businesses to initiate a well-designed babysitting app that aligns with their objectives without stretching their budget. By considering these aspects, businesses can make informed decisions during the development process, ensuring a successful and cost-effective outcome.
Conclusion
The babysitter and nanny finder app stands as a blessing for busy parents, offering a valuable solution to seamlessly juggle work and childcare responsibilities. Beyond its practical support, it serves as an emotional motivator, enabling parents to concentrate on their tasks with peace of mind. The on-demand business model within the babysitting industry holds significant potential for market growth.
If you're considering exploring this thriving sector and envision creating your on-demand babysitter-finding app, it's crucial to collaborate with a reputable mobile app development company. Their expertise will help shape your concept and initiate the development process, ensuring a strong foundation for your business venture.