Reading Time:
5
minutes
If you are just starting with ASO, or App Store Optimization, some concepts seem a tad bit confusing. What's even worse, some of the Google Play Store optimization strategies might sound counterintuitive. But there's nothing to worry about! You've come to the right place.
This post will take you through Google Store Optimization's basics, what it does, and an effective keyword research technique. By the end of this post, you will have the knowledge to match up or, dare I say, even beat your competitors in the market.
What is App Store Optimization?
ASO optimization is the art of improving your app's visibility in the market, for instance, the App Store or Google Play Store. The idea is to focus your app's performance in search results to improve its CTR (Click through Rate), which inevitably leads to its success.
Is App Store Optimization Necessary?
Creating an app that caters to your customers is not the only thing that assures success. Granted, it counts, but your customers need to find the app first. And that's where app store optimization comes into play.
The main places you will list your mobile app are on Google Play and the App Store. And these markets have millions of apps already listed. Above all, there are thousands of apps listed here daily. That said, it's quite a competitive area, and improving your visibility and ranking is the quickest way to stand out.
An effective way to ensure your app ranks high on the app Store and Google Play is to have the right keyword. Choosing the right ASO keyword on these stores will give you the right visibility depending on what your target audience is looking for. Here are some tips that you can utilize for effective keyword research and usage.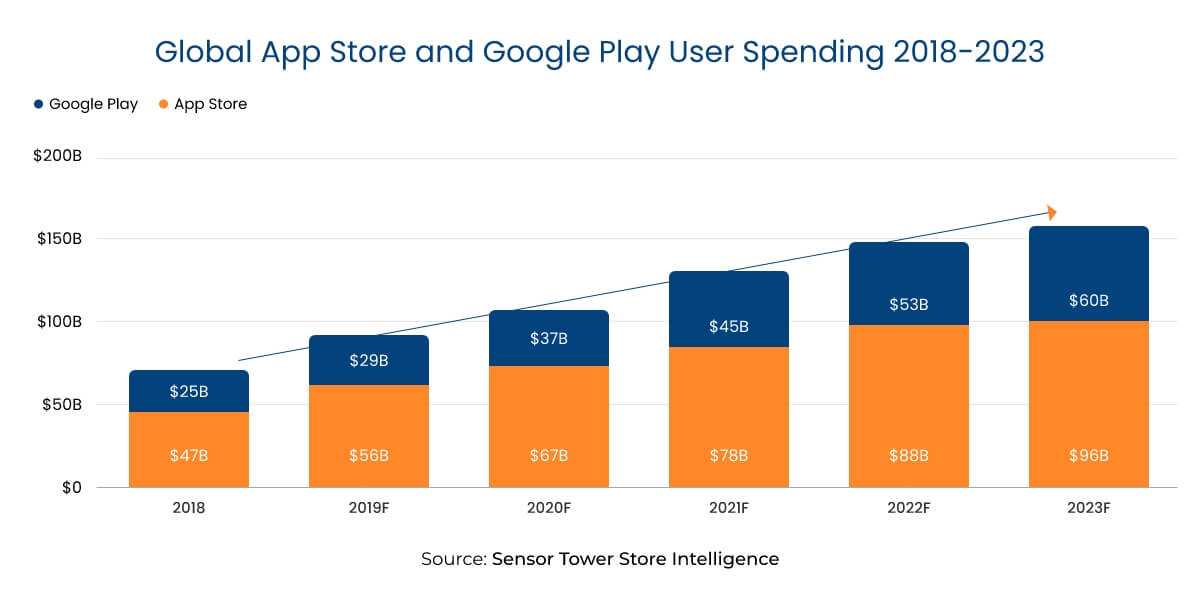 A Guide to Effective App Store Keyword Research and Usage
Keyword Relevance
When choosing the right keywords for your app, the most important thing to consider is how relevant the keyword is to your audience. Will your audience use this keyword when searching for an app like yours? Or better yet, can this keyword put your app in front of the right audience?
Regarding your app store optimization strategy, keyword relevance should be your utmost priority. We now have tools you can use to conduct keyword research, but in most cases, not all keywords will be relevant.
Go for Keywords with a High Volume-To-Click Ratio
If you are starting your ASO optimization journey, it's common to go for keywords with the highest search volume possible. However, that is not the only determinant when looking for keywords to incorporate into your app store optimization strategy.
Not all keywords receive sufficient clicks from your audience, a factor commonly known as CTR. A low CTR will have the opposite effect and could harm your app's ranking if you don't get the right amount of clicks to rank. Therefore, ensure you are cautious when selecting keywords for your app.
Conduct Competitor Analysis
It would be helpful if you could analyze your competitor's apps and what keywords they are using. That will not only give you more keyword ideas, but it will also identify gaps in the marketing strategy that you can leverage. An easy way to spy on your competitors is by checking their app descriptions and titles to identify significant keywords they might be using.
Thankfully, you will have access to ASO keyword research tools that can help you identify keywords your competitors use in the campaign.

ASO Long-Tail Keywords
According to Google Play guidelines, the number of characters to add to your app description is 4,000. That said, don't be afraid of looking up Long tail keywords. And since CTR is crucial in visibility and ranking, long tail keywords could be your Play Store optimization strategy's secret sauce.
In fact, research shows that over 29% of phrases contain three or more words. Therefore, when conducting research, don't forget to use long-tail keywords that could help your ranking.
Organize Your Keywords in their Metafield Based on their Importance
Undoubtedly, some keywords you come up with from your research will be more important than others. That's why finding the right spot for each keyword is crucial. While Google Play Store's ranking algorithm is not public, top developers have identified that keyword placement largely influences app ranking.
For instance, it's imperative that you place the primary keyword in the app name. That's because it's the first thing a potential user will see when they search for a specific application on the Google Play Store.
The second most crucial metadata field you should pay attention to when placing keywords is the short app description, followed by the developer's name and reviews. Ultimately, consider having the most relevant keywords at the front and the less impactful ones on the other pages.
Find a Translator to Localize Your Keywords and Metadata
Today we have an app for almost everything. Whether you need groceries delivered or a ride to a meet-up with your friends for brunch. While that sounds pretty exciting, the unfortunate part is that most of these apps aren't language inclusive.
Since many top apps are mainly in English, they can't be used worldwide as they are limited to the English-speaking population. With that in mind, if you want to take your app global, you must leverage localization.
Localization means using a translator to translate the content on your app to different languages so users searching for the app in their local language can easily find it. That means adding alternative keywords and metadata to tap into the localized market.
To nail your localization strategy, make sure you work with someone with a deep understanding of the language, among other cultural aspects. A professional translator or native speaker will definitely be your best bet at finding keywords your target audience uses.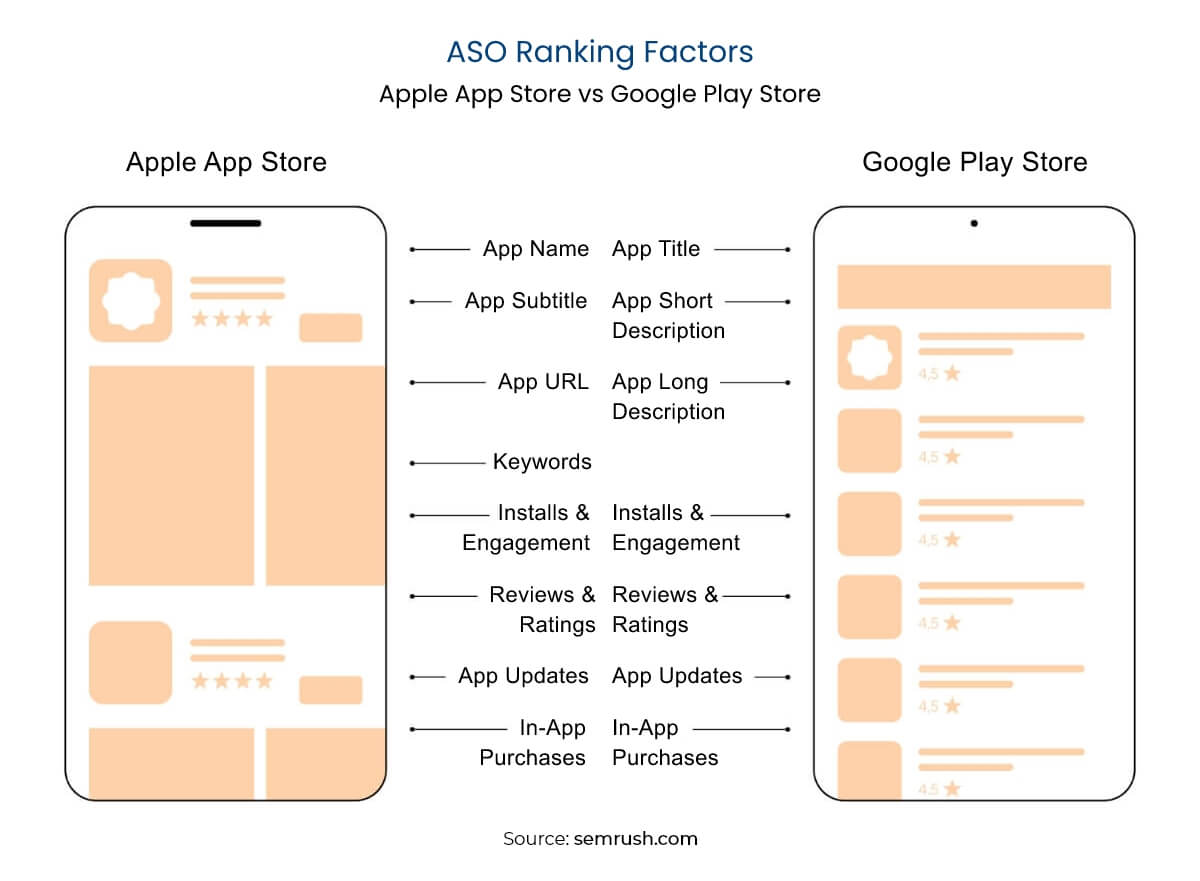 Conclusion
ASO or App Store Optimization is a crucial aspect of ensuring your mobile app's success in a highly competitive market. With the right keyword research and usage, you can significantly improve your app's visibility and ranking on the App Store and Google Play. Remember to prioritize keyword relevance, choose high volume-to-click ratio keywords, conduct competitor analysis, use long-tail keywords, organize your keywords in their meta field based on importance, and localize your keywords and metadata for global reach. By following these tips and strategies, you will be well on your way to matching or even beating your competitors in the mobile app market.

Written By
Digital Marketing Manager