Reading Time:
8
minutes
Artificial intelligence (AI) has been a fast-expanding industry in recent years, with new developments and technologies being produced at an astounding rate. AI is not a new concept in the realm of technology. But, AI technologies like ChatGPT have enabled the technology to be used at the user stage for the first time.
ChatGPT understands, evaluates, and responds to long-form inquiries. The gadget has a hitherto unseen knowledge of the human language. As a result, ChatGPT may provide both one-line brief replies and a lengthy essay.
ChatGPT has so far emerged as one of the fastest-growing new technology products in history. You've probably heard of it being used to assist in the creation of anything from emails and resumes to school projects. In the meanwhile, comparable models may create not just photographs in a variety of styles, but also video and even music.
These tools can help you work smarter, not harder, whether you're a freelancer, entrepreneur, or simply want to increase your income. What's more, the finest part? Dig through our AI tools 2023 list to find the best solutions for you.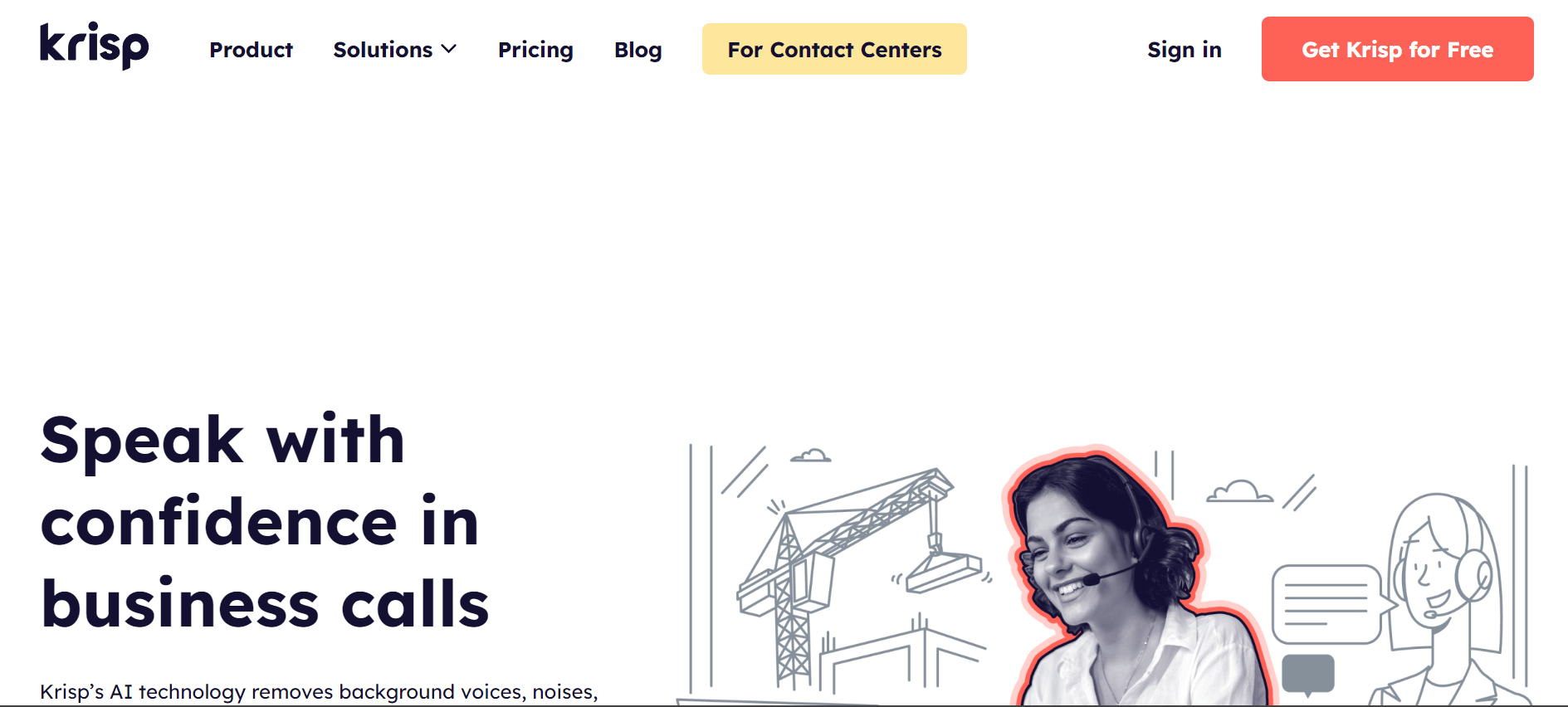 Krisp is a cutting-edge solution that can help you increase the quality of your online meetings.
It removes ambient noise, voice, and echoes from your conversations using cutting-edge AI technology, allowing you to engage in a smooth and distraction-free conversation. Krisp may help you reduce distractions and remain focused, whether you work from home or in a crowded location.
One of the most appealing aspects of Krisp is that it's absolutely free to use. You don't have to spend anything to enjoy its features. Krisp is very simple to set up and use, enabling you to get started right away.
To summarise, Krisp is an excellent tool for someone who wants to enhance their virtual meeting experience. Krisp can help you stay productive and focused throughout your calls, whether you're a freelancer, a businessman, or a student. Thus, if you're weary of dealing with ambient noise and interruptions during virtual meetings, give Krisp a try now and see the difference for yourself.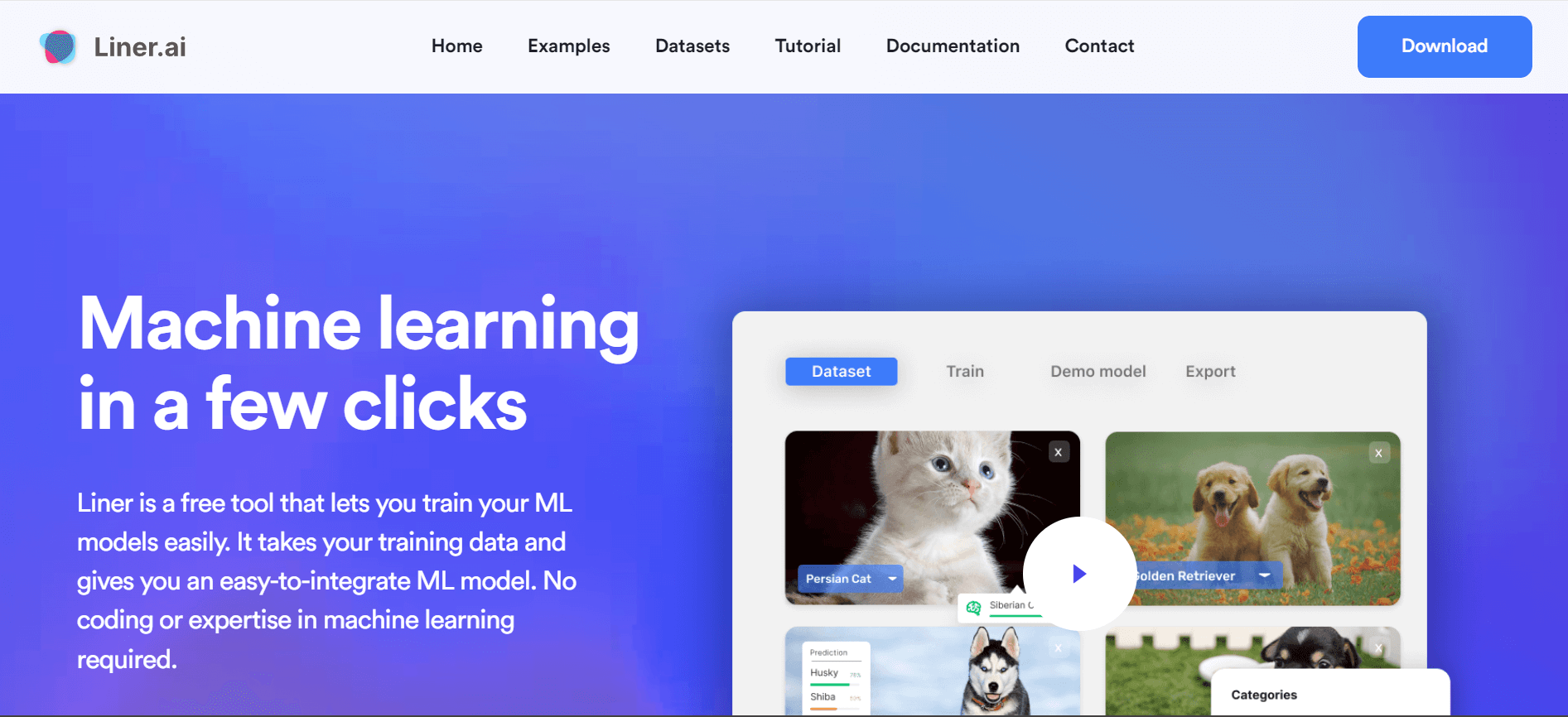 AI and ML technologies have grown in popularity, owing in part to advances in natural language processing and the accessibility of resources such as ChatGPT.However, keep in mind that understanding AI and ML can be challenging and time-consuming. Liner comes in handy here, Liner is a complete solution for learning algorithms based on machine learning without requiring any code. It uses your data for training and builds a model that is simple to incorporate into your application.
This means you don't need to dedicate weeks or years to understanding the complexities of AI and ML. Liner, on the other hand, may be used to rapidly and simply develop models that can aid your business or organization.
One of the most appealing aspects of Liner is its ease of use, especially for individuals with no prior experience with AI or machine learning. It has a basic, user-friendly interface that walks you through the process of creating a model. It's also simple to use and customize, allowing you to personalize your designs to your exact requirements.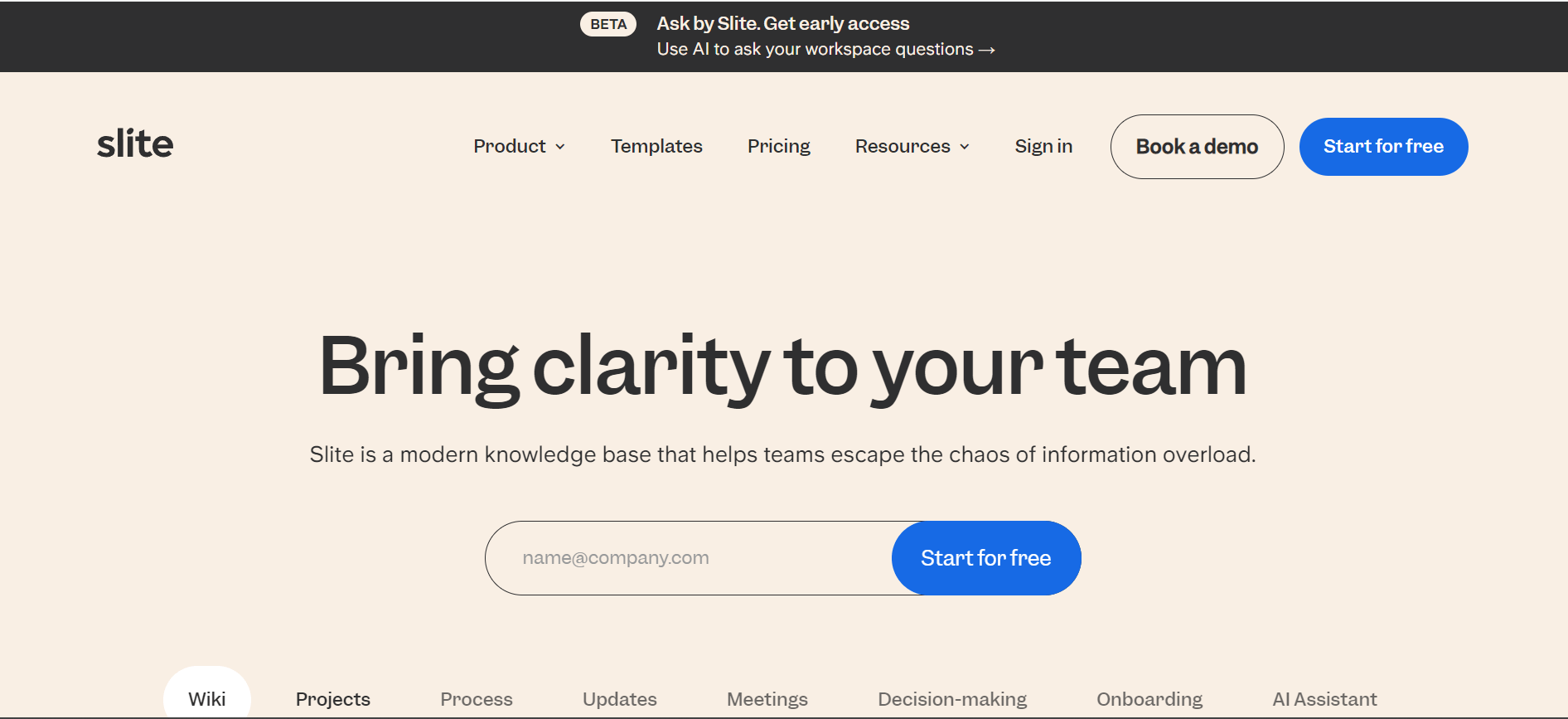 You've probably heard of project management software, but Slite is a little different. What distinguishes Slite is its emphasis on team cooperation and communication. It is intended to help teams operate more efficiently by centralizing all project-related information, making it easier to access and share with others.
Slite's capacity to write and organize notes, which may be used to track project progress, discuss ideas, and keep team members updated on significant developments, is one of its primary features. It's simple to create, update, and organize notes with its user-friendly layout, making it straightforward to keep records of every piece of information you have to plan your project. Slite also provides a comprehensive set of collaboration capabilities, including remarks, references, and task assignments, to enable teams to operate more effectively together.
This implies you can connect with team members, brainstorm ideas, and assign work all in one spot, making it simple to maintain all of them on the same page. Slite also provides a variety of templates for creating and organizing various sorts of projects. This can help you optimize your process and save time and effort while planning and executing initiatives.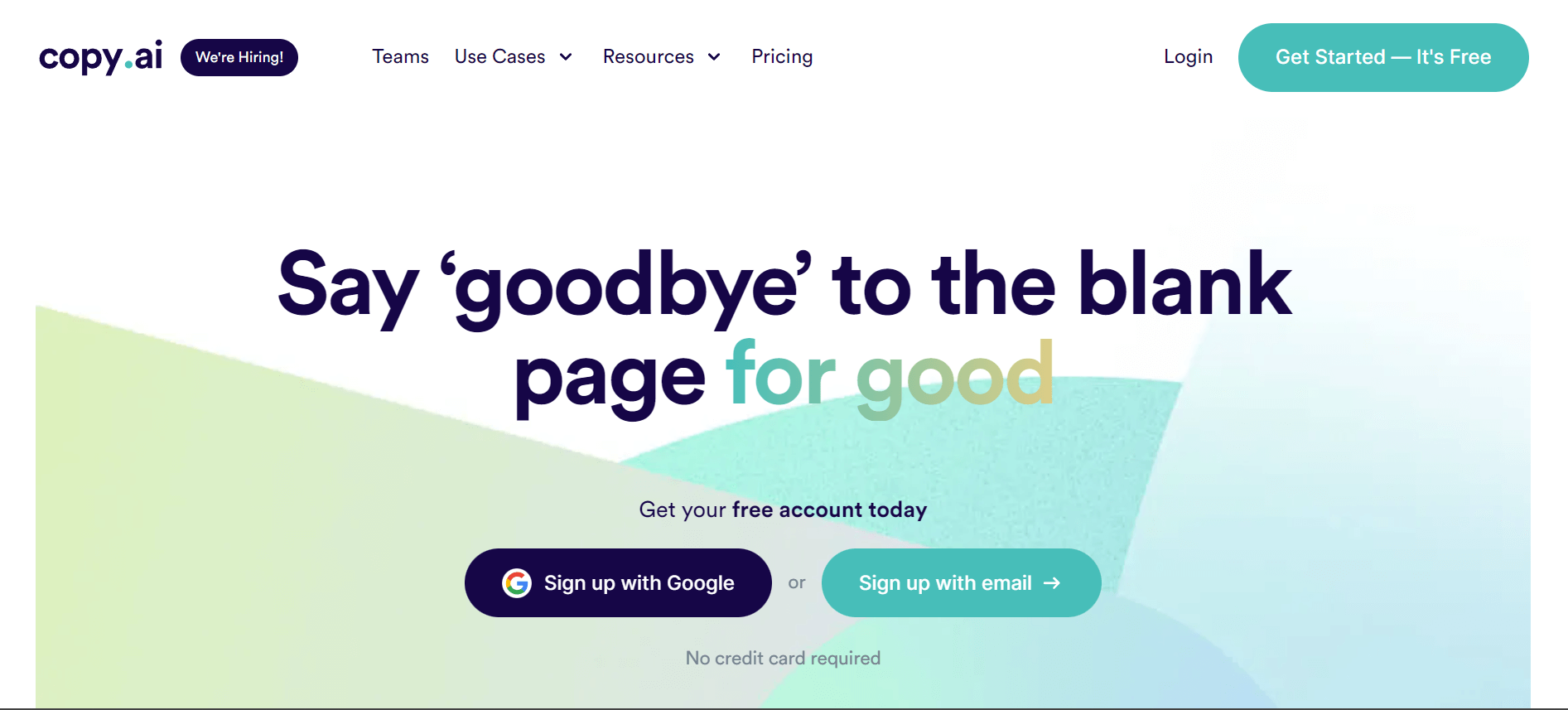 Copy.ai is ideal for sales and marketing teams that want to optimize their go-to-market strategy and expedite their content generation process. Copy.ai allows teams to instantly develop tailored sales copy that directly relates to the pain points and wants of certain client segments, allowing them to interact with potential customers more successfully and complete more transactions.
Furthermore, Copy.ai can be used to develop content that serves to establish leadership and gain trust with potential consumers, which may assist to boost the team's GTM approach's efficacy.
Copy.ai is an AI-powered copywriting tool that generates the most effective customer-facing material for you. It assists you in creating conversion-oriented articles, emails, sales copy, headlines, and social media postings.
Its AI workflows can be customized to tackle complicated challenges at scale, such as personalized cold outbound marketing, programmatic SEO, and other applications.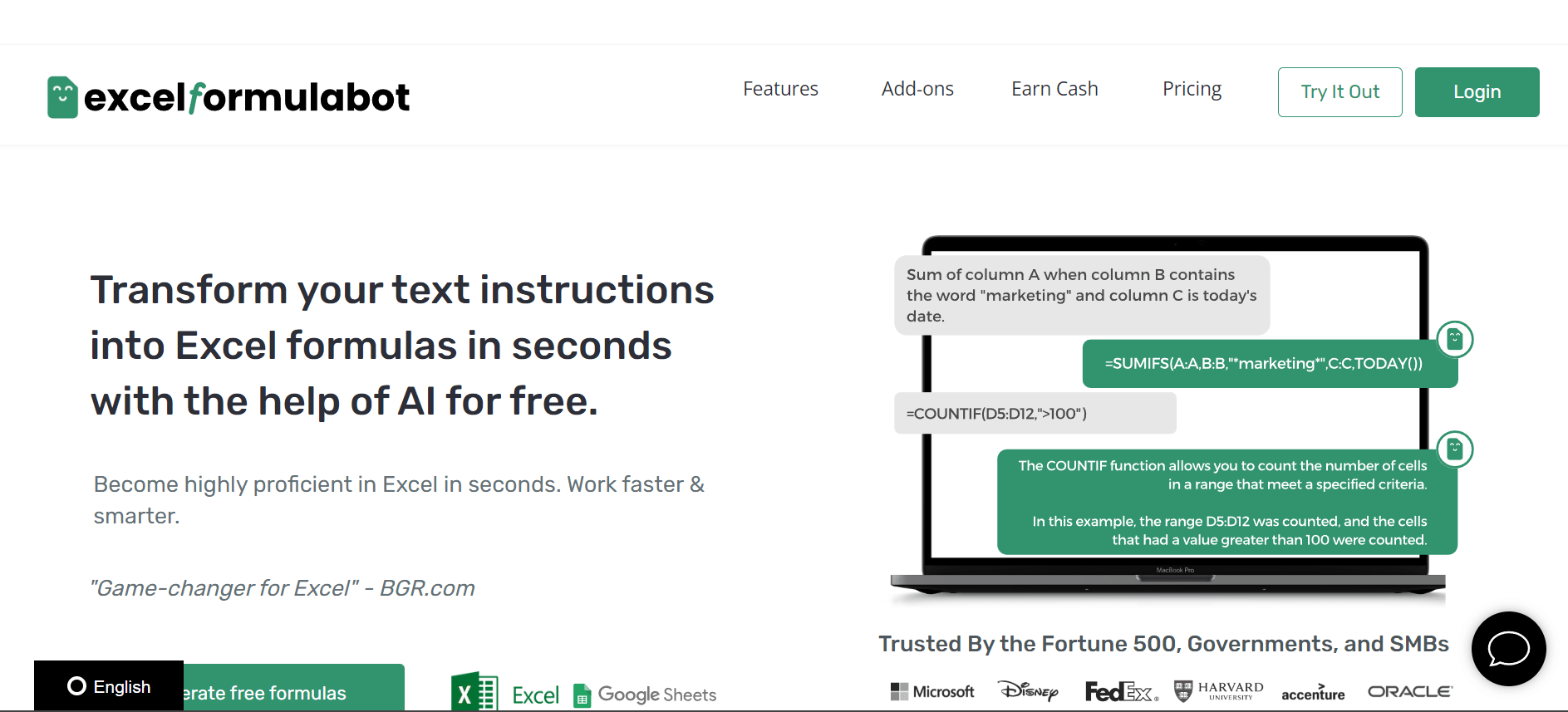 Excelformulabot is an AI-powered application that allows users to build Excel formulae from written instructions quickly and effortlessly. It is meant to assist users in becoming experts in Excel in seconds and supports both Excel and Google Sheets.
The program is free to use and has a simple interface for creating formulae. It also explains each formula and offers add-ons to assist customers in obtaining formulae faster.
In addition, the application includes a cost calculator to assist users in determining the cost of time spent on formula production. About 1 million users rely on Excelformulabot to work smarter and quicker in Excel and Google Sheets.
AI can convert your written instructions into Excel formulae in seconds. The full power of the AI formula generators in Excel and Google Sheets can solve issues in seconds. Use the Excel formula bot AI generator to generate the Excel formula for business or have an Excel formula explained to you.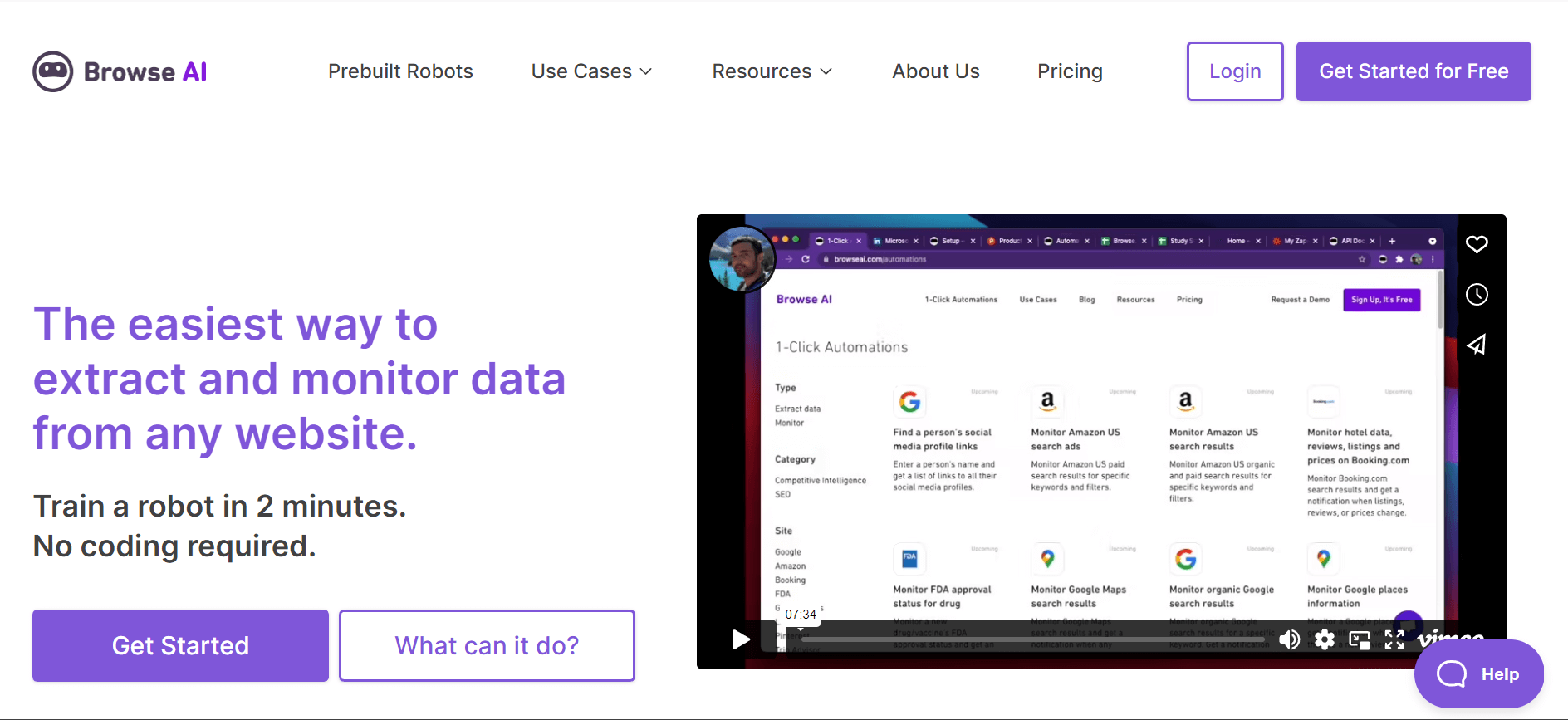 Do you understand what web scraping is? If not, it is a method of obtaining pertinent data or information from a website. It might be a user's email address, home location, or even cell phone number.
With Browse AI, you can easily extract information from many websites at once, as well as simply set reminders about when new information becomes available.
It's a fast and cost-effective option for corporations, academics, and other people that need to swiftly and simply collect massive volumes of data.
Explore AI also provides data visualization and export options, allowing you to readily examine and apply the information you've gathered. It's a powerful tool that may save you time and effort by automating the data extraction process.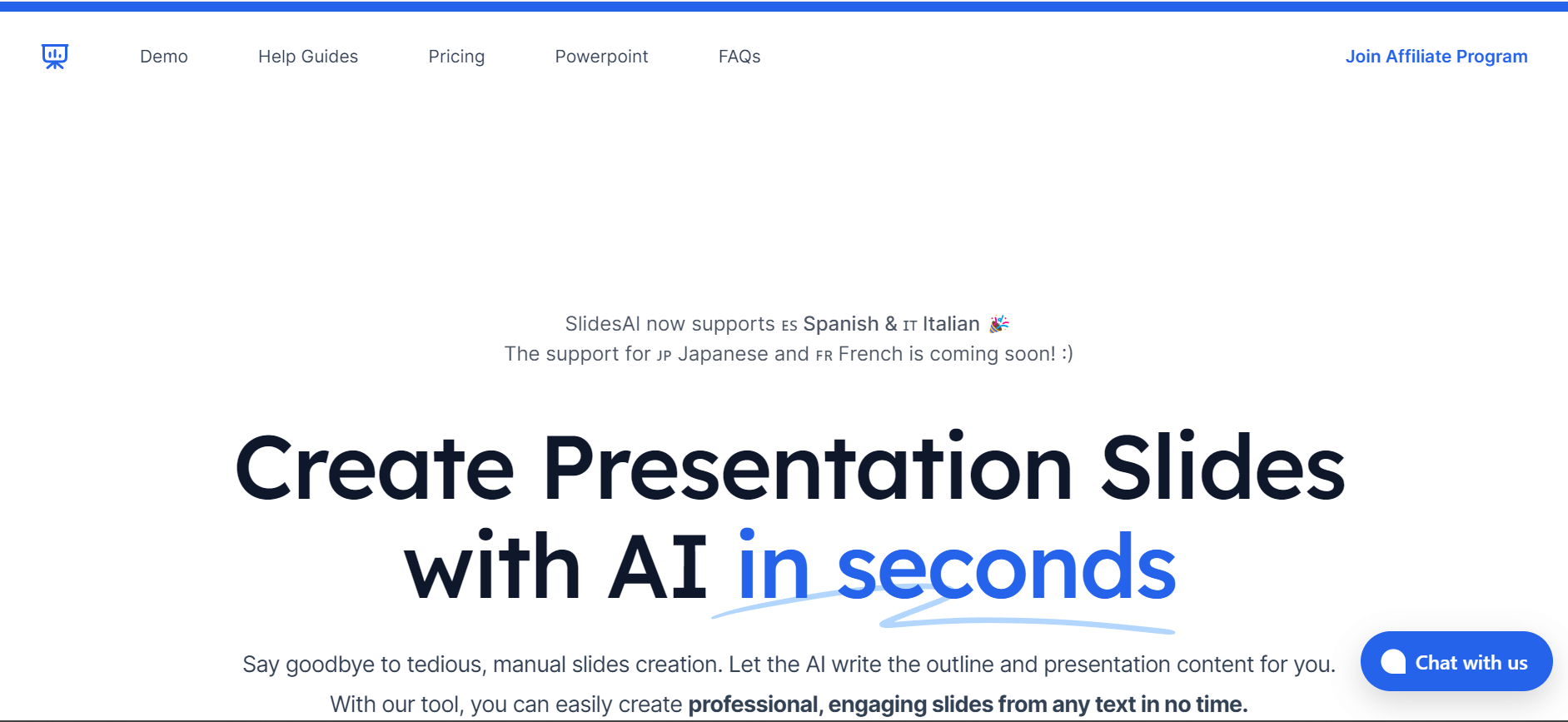 SlidesAI.io is a Google Slides add-on that will soon be able to operate with PowerPoint. SlidesAI.io can magically turn any piece of text into aesthetically engaging slides.
It operates as follows: Input the text from which you wish to make your presentation. Modify the presentation's appearance, and watch the magic happen!
Price and provisions: It's a "freemium" tool, which means it has a free plan as well as a paid premium one.
The free plan allows you to create three presentations each month with a character limit of 2500.
The Pro package is $10.00 per month and includes 10 Presentations and 6000 character input.
The Premium package includes limitless Presentations and a character limit of 12000.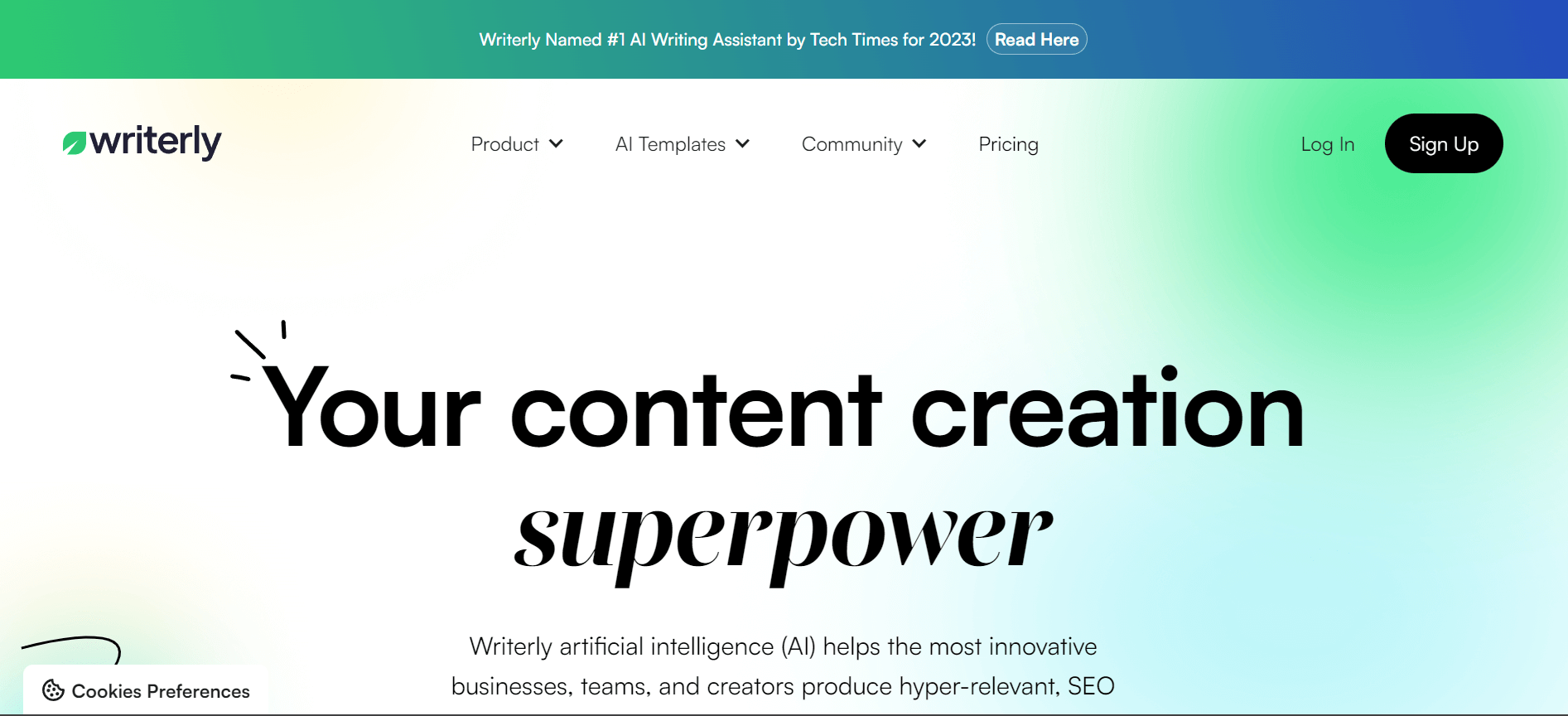 Writerly is a one-stop writing solution that is driven by artificial intelligence. It is intended to help individuals and organizations create high-quality, interesting, and fully plagiarism-free material fit for all writing channels. It creates materials such as blogs, marketing plans, ad copy, social media postings, landing pages, and much more.
It covers all topic areas including over 50+ writing templates. Writerly has scanned over 5 billion text lines, which is equivalent to over 350 years of reading, indicating that it can produce detailed material for anyone.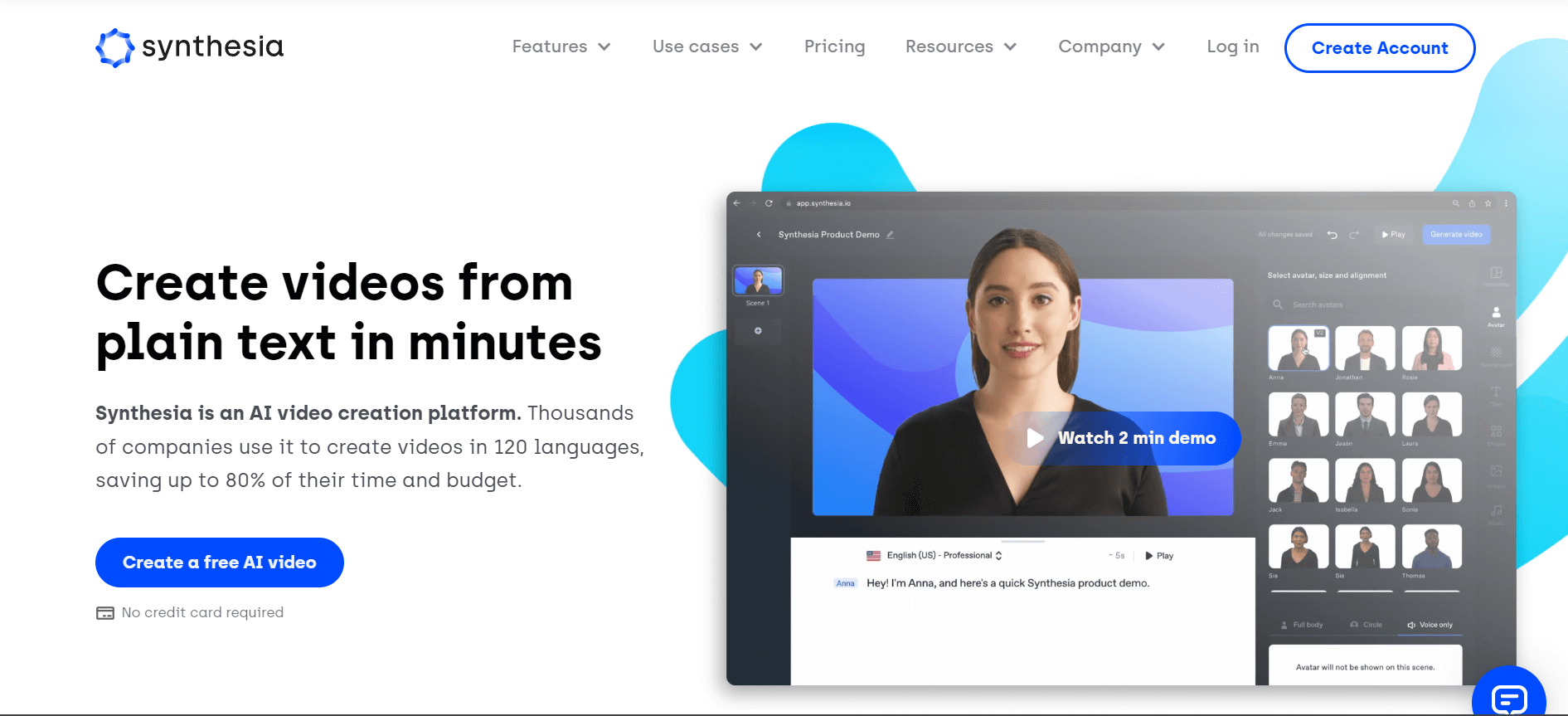 Synthesia STUDIO is the world's first AI video creation studio in a browser.
Businesses of all sizes are transforming their training, sales, and support material to AI video. Let your staff and consumers interact with interesting video content instead of reading through tedious PDF pages.
Synthesia STUDIO saves you money on pricey video productions. There are no cameras or film teams required. Select your avatar, write your script in one of 65+ languages, and your movie will be done in minutes. Synthesia STUDIO converts your writing into voice.
Convert your text-based information into bite-sized videos to boost engagement, conversion, and retention for learning, support, and sales material. Synthesia STUDIO provides you with versatility. Product, regulatory, or compliance policy changes? Not a problem! You can always edit or modify your videos. Just enter words to create AI videos. It is simple to use, inexpensive, and scalable. Create compelling films with human presenters right in your browser.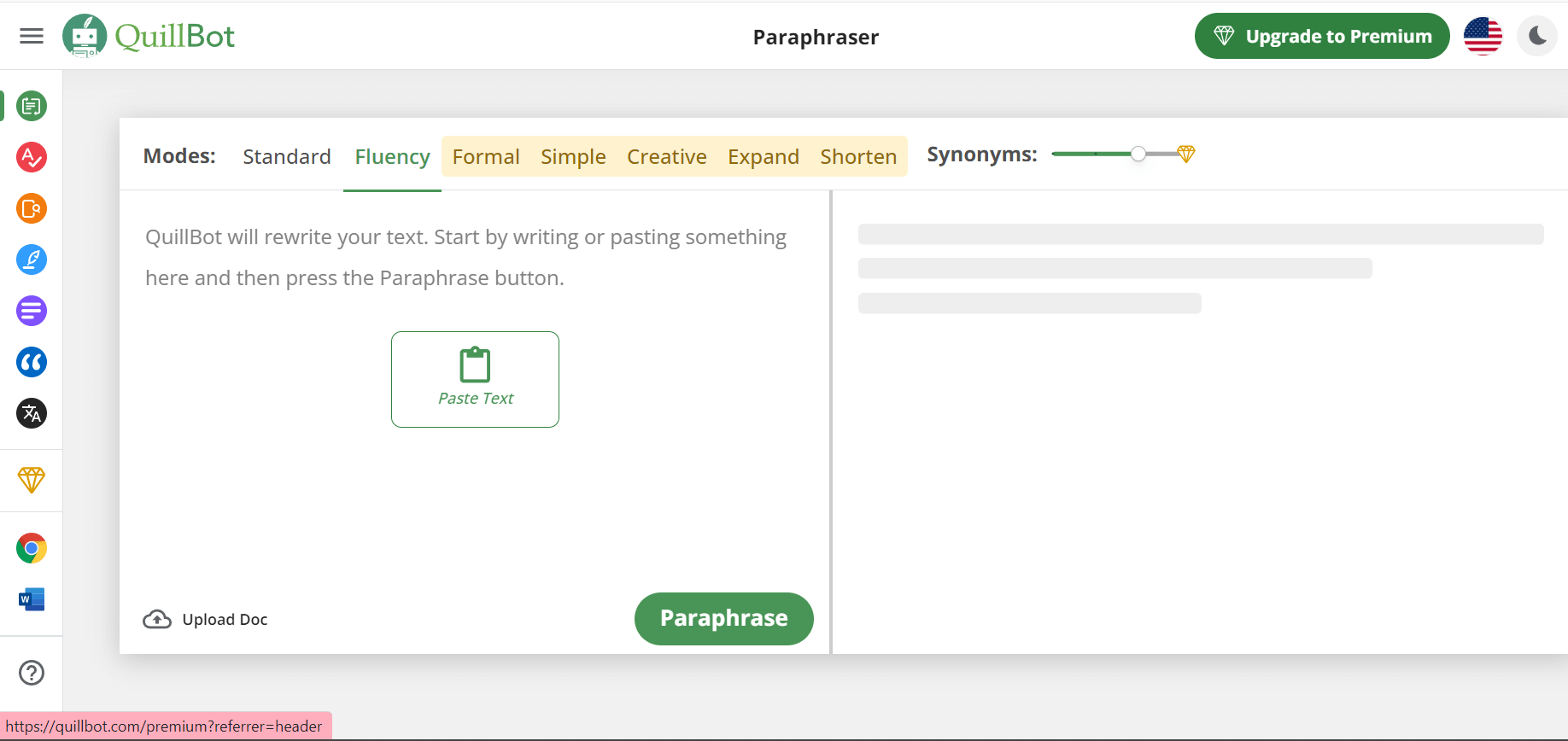 Quillbot can assist you in paraphrasing or rewriting material. Evaluate a large number of synonyms to discover the perfect term.
It can help you with your fluency, vocab, tone, and style. Put any text into its parser and request that it rewrites it. It will provide several alternatives for revising it. It's a "freemium" tool, which means it has a free plan as well as a paid premium one.
The free edition includes 125 words in the Paraphraser and 1200 words in the Summarizer, as well as certain limitations on other capabilities.
Premium costs $19.95 USD per month or $99.95 USD per year and includes limitless words in the paraphraser and 6000 words in the summarizer, as well as additional options for the other capabilities.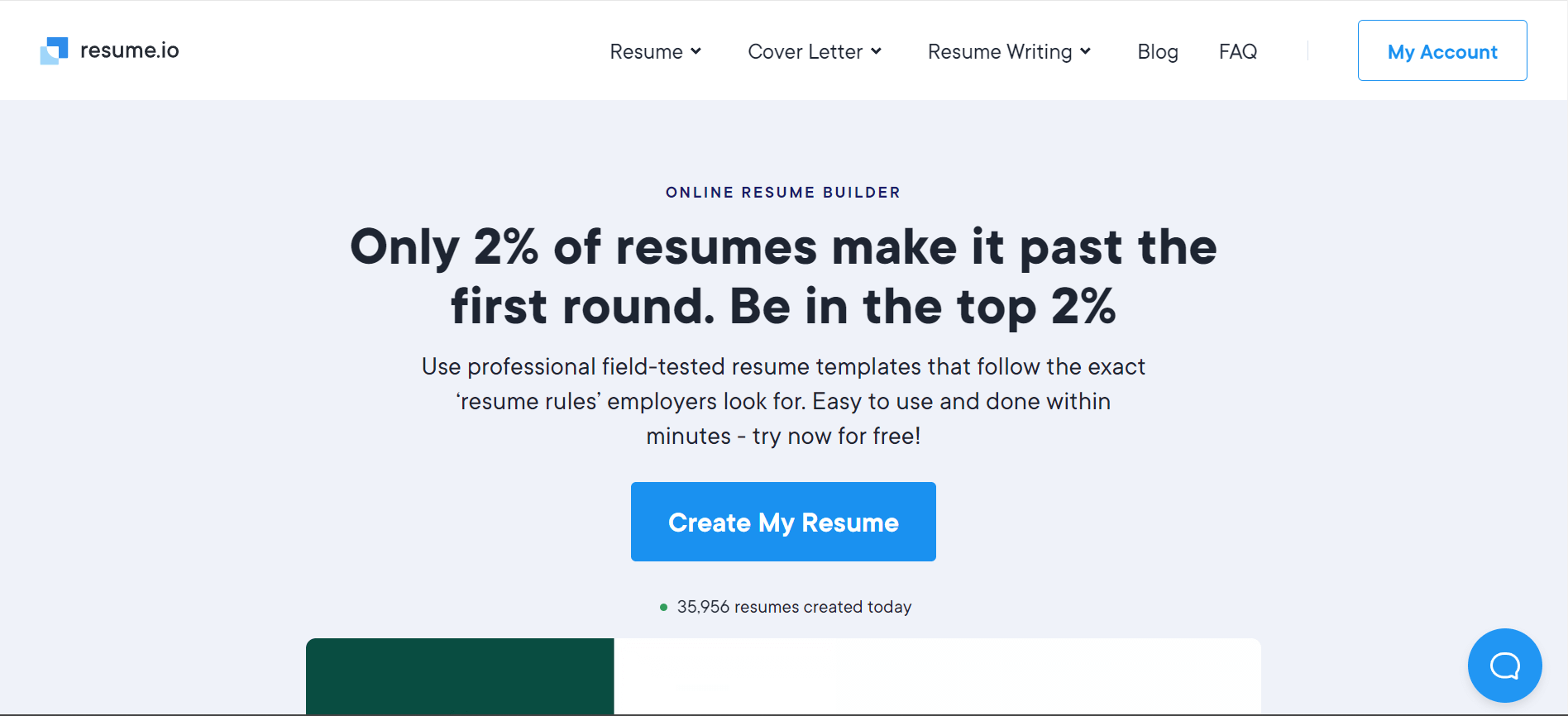 You may use an AI-powered resume generator to construct your full resume instantly. The AI Resume Writer can create high-quality divisions for your resume overview, job experience, and education, all while maintaining a consistent tone across the document. Test it for free, and you'll get your AI-generated resume in seconds.
Spend less time writing and more time applying. Simply answer a few questions about your job experience, talents, and so on, and ResumAI will build your full resume, formatting included. AI employs cutting-edge machine learning technology to provide you with outstanding resume bullet points.
Choose the finest and use them on your CV! Repeat until all of your bullets are on target and create a resume based on your talents and experience.
Conclusion
To summarise, the subject of artificial intelligence is fast evolving, and there are many intriguing technologies outside of ChatGPT that are transforming the way we interact with machines and each other. Computer vision, natural language processing, autonomous cars, and other technologies are examples of these. These developments have the potential to transform whole sectors and enhance our lives in numerous ways. Yet, like with any sophisticated technology, there are ethical, privacy, and unintended effects issues. As we continue to develop and adopt new technologies, we must examine their influence on society and strive for a future that benefits all of us.

Written By
Digital Marketing Manager